Laser Treatments for Stretch Marks in London UK
Striae distensae are otherwise known more commonly as stretch marks. They do not cause any medical problems but can cause significant psychological distress. Stretch marks affect skin that is subjected to continuous and progressive stretching. This usually occurs in the abdomen and breasts of pregnant women, in teenagers undergoing a growth spurt, especially over the buttocks as well as on the shoulders of bodybuilders and individuals who are overweight.
How do stretch marks form?
The stretching that the skin is subjected to comes from within and essentially affects the dermis (deeper layers of the skin) rather than the epidermis (upper layer of the skin). Healthy dermis consists of a lattice arrangement of collagen and elastin providing the skin with tensile strength and elasticity. Stretching results in disruption of this structure and repair and regeneration is compromised. It also results in inflammation that affects the epidermis. 
Under the microscope, research into stretch marks has revealed evidence of thin and inflamed epidermis. The dermis has reduced amounts of collagen and elastin. The collagen and elastin that remains is extremely disorganised.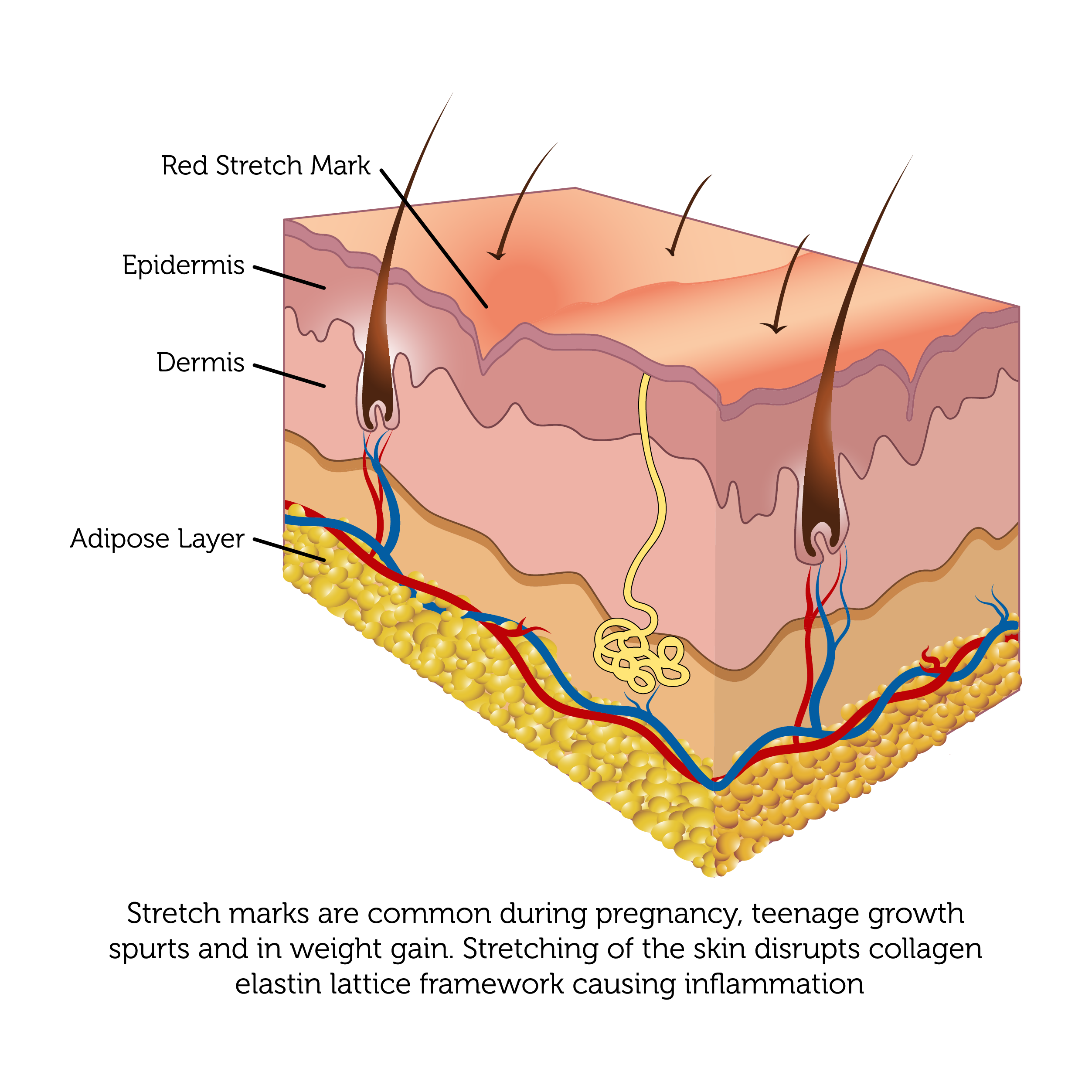 Can stretch marks be treated?
Successful treatment of stretch marks requires repair and regeneration of collagen and elastin in the dermis (deeper layer) of the skin. Treatment of stretch marks requires a combination approach to achieve realistic positive results.
Can Nd:YAG laser help improve stretch marks?
The Nd:YAG laser has a wavelength of 1064 nm and is able to penetrate 4mm deep. This non-ablative laser is especially helpful in the case of stretch marks as there is damage both to the superficial epidermal layer but more importantly to the deep dermal layer. This wavelength of laser is absorbed by haemoglobin and therefore helps to destroy blood vessels and thereby improve any redness associated with stretch marks. In addition the heat generated within the deep dermis results in thermal damage and triggers wound healing with collagen remodelling. New collagen fibres subsequently improve stretch marks.
Using our thorough understanding of the microscopic changes that occur to the skin when affected by striae distensae or stretch marks, we are able to offer bespoke, cutting edge treatments that can make real improvements to their appearance. We have a real appreciation for the significant psychological distress stretch marks can cause and always strive towards a holistic approach to treatment. We are here to help you not just with aesthetic concern but also with your confidence and self esteem. Your appearance should never hold back your enjoyment of life.
At your initial consultation your stretch marks will be examined. Our team will confirm the presence of stretch marks and identify which areas are likely to improve the most with laser treatment. Following this they will carry out a patch test to ensure it is safe to use Nd:YAG laser on your skin.
We normally recommend four sessions with each session taking place four weeks apart. After each treatment session we apply topical antibiotic cream for 3 to 7 days. We ensure that each stretch mark is treated with a single pass of the Nd:YAG laser.
Microneedling of the affected regions result in collagen production. Combination with Angel Arthrex or Magellan Plasma Therapy can accelerate this. Plasma therapy can also stimulate production of hyaluronic acid which will help to plump up the skin and increase the levels of hydration. There will also be modest improvements in colour tone.
Supplementing with superficial chemical peels can help to even out skin tone and level out the epidermis (upper layer of the skin). This can help to improve the appearance of stretch marks. Regular skincare with a combination of a bleaching product  and mild Vitamin A or retinol will provide a blending effect that can improve the overall colour tone.