Laser Treatment for Keloid & Hypertrophic Scars in London, UK
Scarring is the inevitable consequence of damage to the skin. Scarless healing exists in the foetus but not following birth.
Can laser treatment help with scarring?
Certain types of laser can help to significantly improve both keloid and hypertrophic scars. Studies looking at the impact of Nd:YAG laser on scarring have shown that hypertrophic scars tend to improve more than keloid scars when treated with this type of laser. Results are even better when combined with existing treatments for keloid and hypertrophic scarring such as intralesional steroid injections.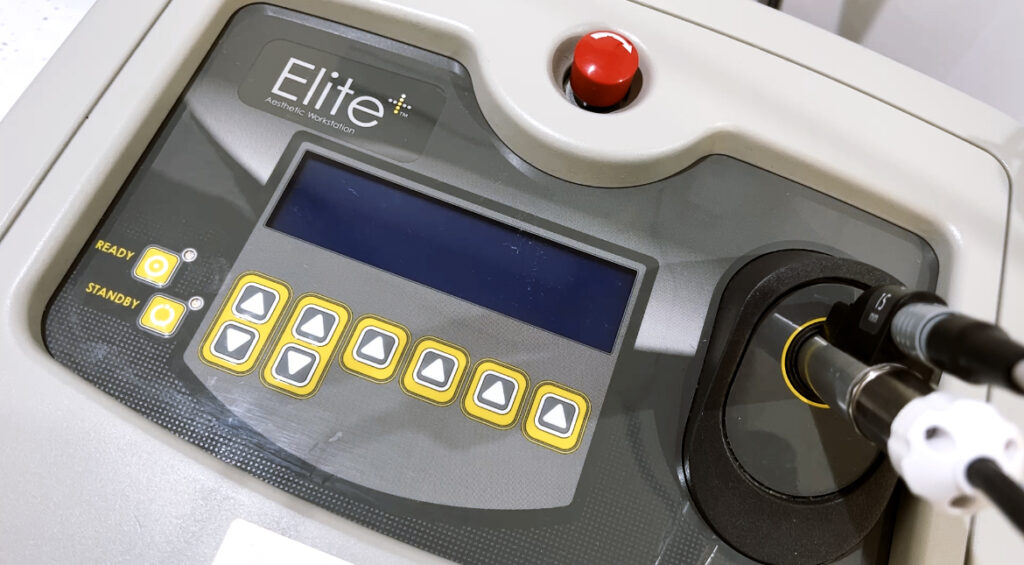 What can lead to bad scarring?
The extent of scarring and quality of wound healing is dependent upon a number of factors. Skin type often affects the quality of healing. Darker skin types have a tendency to form darker scars and suffer from post-inflammatory hyperpigmentation. They also have an increased tendency to develop hypertrophic scarring (raised scars). In Afro-Caribbean and Asian skin types keloid scars (raised scars that extend beyond the site of injury) are a problem.
Wounds that are subject to infection or chronic inflammation can also result in the formation of displeasing scarring especially in conditions such as acne. Certain regions of the body tend to scar less and heal faster than others. The face tends to heal quickly but is the most visible part of the body. Hypertrophic and keloid scars tend to develop over the back, chest and torso more so than the face. Scars need to be stable with no evidence of inflammation or infection before any treatment can be effective in the improvement of their appearance.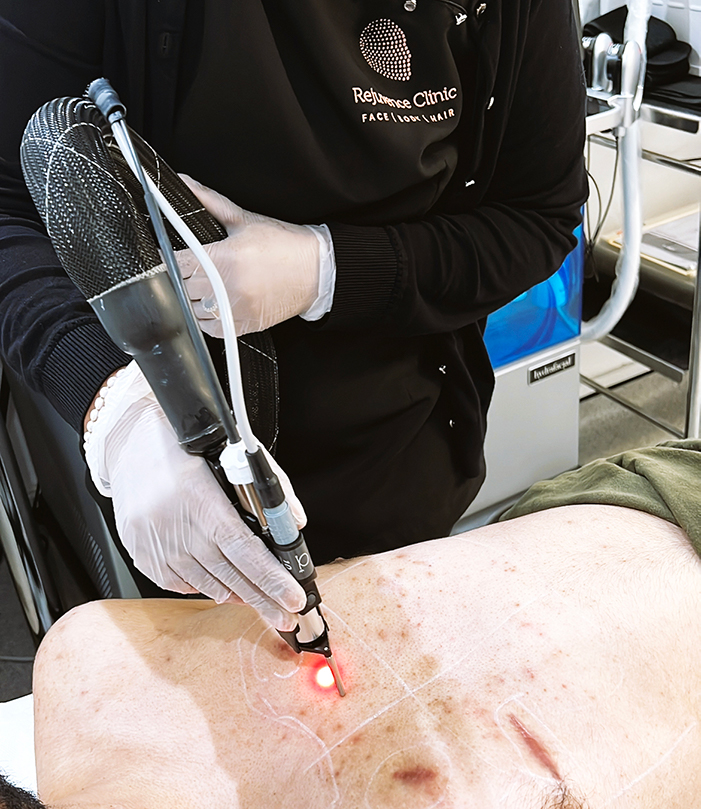 What are keloid and hypertrophic scars?
Keloid scars and hypertrophic scars are the result of abnormal activity of cells called fibroblasts that result in the overproduction of collagen. These scars are associated with other symptoms including itching, pain, redness and psychological distress due to their appearance. They can also be red (erythematous) and directly impact quality of life. Keloid and hypertrophic scars are often found on parts of the skin that move quite a lot and are under significant skin tension.
How are hypertrophic and keloid scars treated?
Hypertrophic and keloid scars can prove very stubborn and difficult to treat. The best form of treatment is usually prevention in patients known to be susceptible. The use of compression garments and regular massaging with silicone gel can often help reduce the occurrence of hypertrophic and keloid scars soon after any operations or sustaining any injuries. These types of scars are often treated with injections of small amounts of steroids that can help to reduce them in size.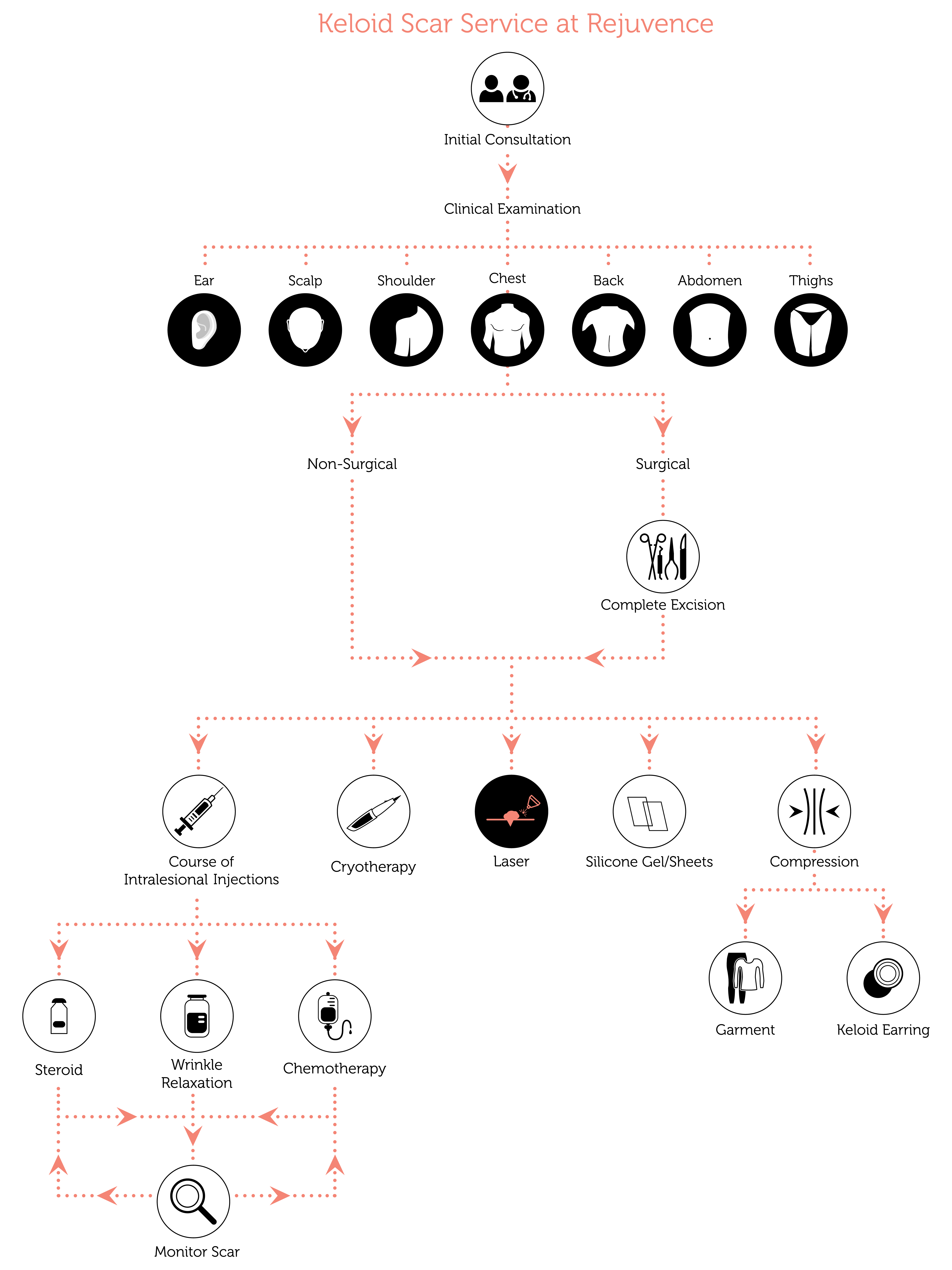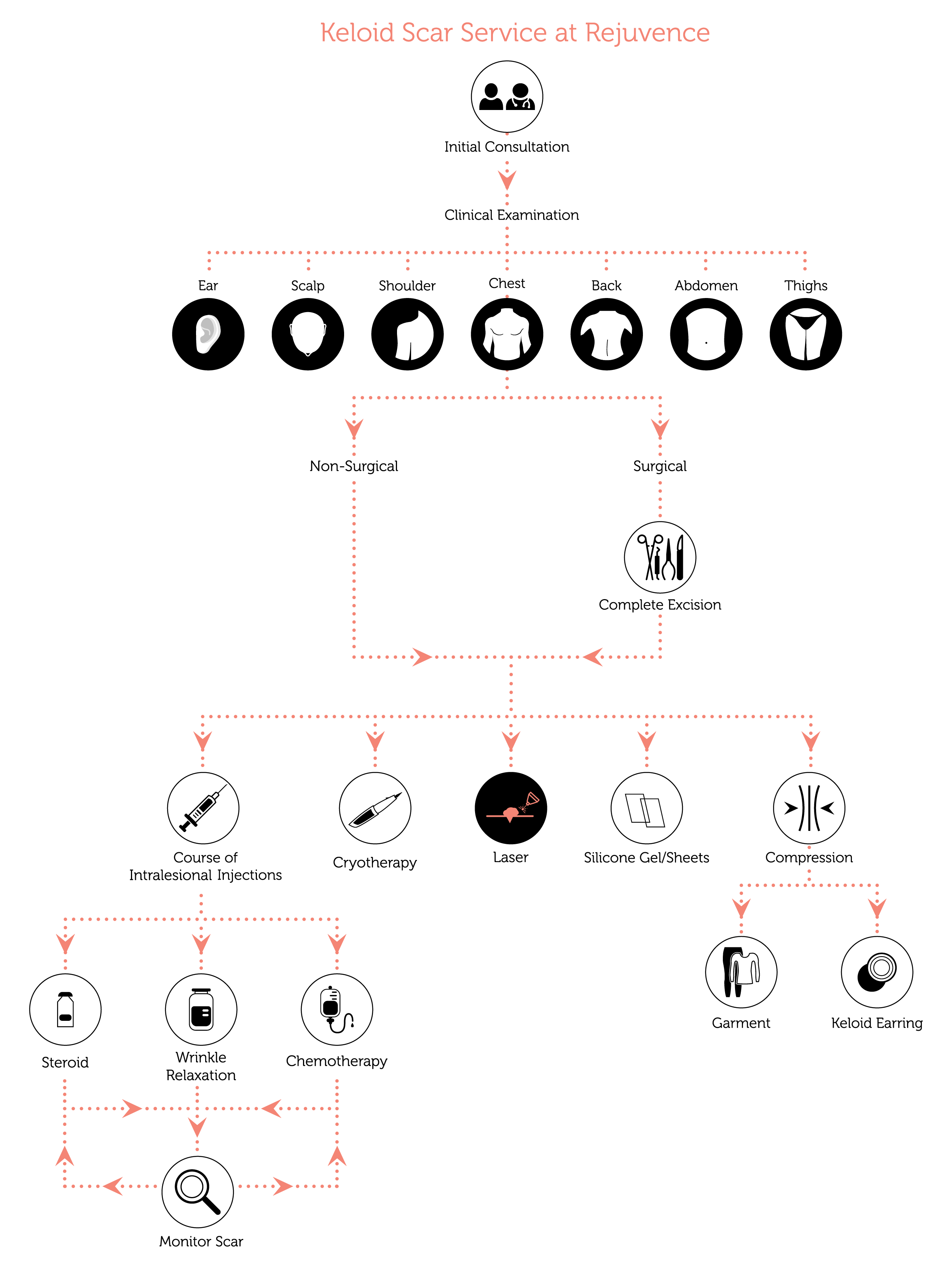 How does Nd:YAG laser help to treat keloid and hypertropic scars?
Nd:YAG laser has a wavelength of 1064 nm and is used in a variety of settings especially for laser hair removal. Nd:YAG laser is able to penetrate 4-5 mm and has fewer side effects than other lasers making it an excellent option for treatment of keloid and hypertrophic scars especially in combination with steroid injections and steroid tape.
Nd:YAG 1064nm laser works by specifically targeting melanin associated with hair follicles as well as haemoglobin in blood. The laser generates heat within the scar and results in a number effects on the scar. Generated heat results in destroying small blood vessels that helps to reduce redness associated with the scars.
As well as reducing the redness and size of keloid scars Nd:YAG laser has also been found to significantly help reduce pain associated with some scars. Numerous studies have shown that a series of treatment sessions can help reduce pain and itching especially when combined with other treatments such as intralesional steroid injections.
Other treatments for Keloid Scars
At Rejuvence we offer a complete Keloid and Hypertrophic Scar Treatment service. Laser treatment with Nd:YAG is an excellent treatment option for keloid and hypertrophic scars. However, research has found that far better results are possible when different treatments are combined. Treatment options include intralesional steroid injections, cryotherapy and complete surgical excision. Adjuvant treatments include silicone gel, silicone sheets, steroid sheets and compression garments. For further information on our keloid and hypertrophic scar service click here: Keloid & Hypertrophic Scars.