Rosacea is a form of acne and is the result of sebaceous glands that gradually enlarge with age and the result is increased sebum production. Sebum is the oily secretion of the sebaceous glands.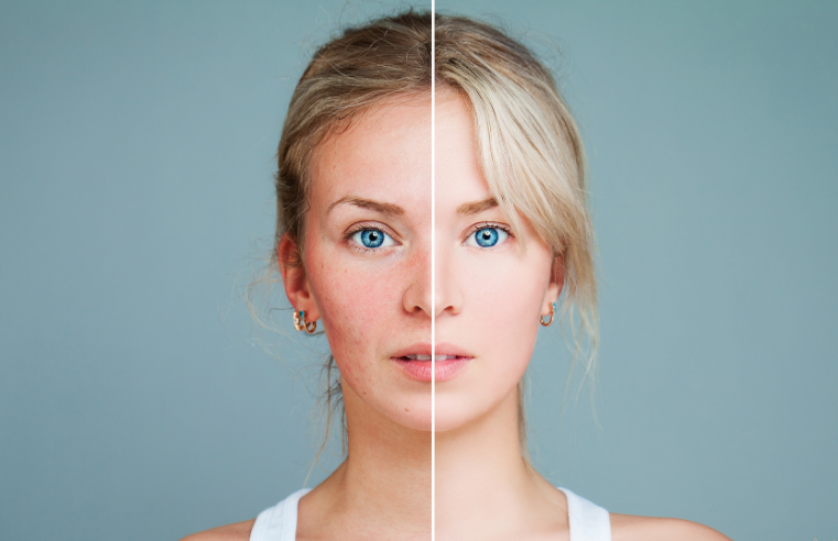 What are the signs and symptoms of Rosacea?
There are a number of symptoms and presentations of rosacea. There is redness and visible small blood vessels on the skin surface. The skin is oily and there is a history of acne. There are changes in skin texture, particularly regions of thickened glabrous (hairless and smooth) skin with enlarged pores. Skin becomes very sensitive. Rosacea can involve the surfaces of the eyes, eyelids and scalp (conjunctivitis, pustules and dandruff). There can also be greater incidence of post-inflammatory hyperpigmentation.
What are the causes of Rosacea?
Rosacea has genetic causes and usually occurs in families of fair-skinned northern Europeans, Hormonal changes can usually cause flare ups of rosacea, especially above the age of 30 years and can affect women during the menopause. Life style factors that can trigger flare ups of rosacea include alcohol, spicy foods, hot temperatures, sun exposure and physical exertion.
What are the treatment options for oily skin in Rosacea?
Treatment of the sebaceous gland enlargement and hyperactivity will result in a reduction in sebum production, help improve inflammation of the skin and also help prevent future breakouts of papules, cysts and nodules. Treatment with Dermalux LED Phototherapy and oral Isotretinoin (for more aggressive treatment of severe cases) has been shown to be very effective.
TREATMENT OPTIONS FOR ACNE
Chemical Peels:
Obagi Blue Peel (Superficial) 
ZO Three Step Peel 
Dermalux LED Phototherapy 
At Rejuvence we always endeavour to provide evidence based treatment options for our clients that have been shown through clinical trials to yield positive results. We are here to listen to our clients. We acknowledge that our clients are the experts of their own face and skin. Together with our clients we aim to provide a bespoke service and tailor bespoke treatment programs that we are confident will provide positive results.