Hydrafacial is the only hydradermabrasion procedure that combines cleaning, extraction and hydration simultaneously alongside a chemical peel, resulting in clearer, more beautiful skin with little to no downtime. The treatment is soothing, moisturising, non-invasive and generally non irritating. Results are often almost immediate.
Hydrafacial is 4 Aesthetic treatments in 1. Why opt for 1 when you can get 4!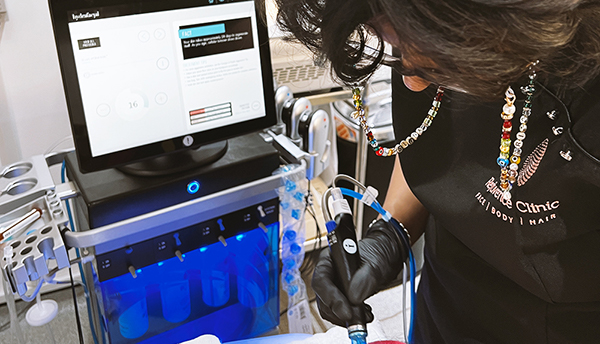 The hydrafacial is a three step process. Step one is a cleanse and peel process. Step two is extraction and hydration. Step three is fusion and protection using specialised antioxidant products and optional skin boosters that can help with anti-aging, hyperpigmentation and general skin care.
Physical and chemical peel to cleanse and exfoliate.
Exfoliation
The exfoliation process consists of the use of Activ-4 Skin solution. This helps to deeply cleanse the skin while softening sebum and impurities to help in extraction. Combined with the vortex technology of the Hydrafacial head unit Activ-4 Skin Solution assists in dislodging dead skin cells and provides residual hydration that helps in firming skin and soothing the appearance of fine lines. It is suitable for all types of skin and will leave skin visibly rejuvenated. The main ingredients of the Activ-4 Skin Solution are glucosamine and lactic acid for exfoliation, and algae extract for calming and soothing. 
Hydrafacial Chemical Peel
As part of the exfoliation process hydrafacial also involves a chemical peel thanks to the unique trademarked GlySal Peel consisting of glycolic acid and salicylic acid. Together this combines the benefits of aggressive exfoliation and chemical peels into a one step resurfacing procedure. It also combines accelerated peel benefits with visible skin rejuvenation and no irritation. Skin is visibly smoother! 
Remove debris from pause using painless section, while nourishing with intense moisturisers
Extraction
The extraction process consists of the use of Beta-HD Clear Skin Solution. This is a multipurpose specialised skin solution formulated for oily and congested skin. However it can be used for all skin types. The salicylic acid contained in Beta-HD Clear Skin Solution alongside willow bark gently helps to exfoliate the skin preventing the buildup of dirt and sebum within the pores. Skin is also left clear with a radiant complexion. Main ingredients include honey extract for hydrating and conditioning, salicylic acid with willow bark extract for exfoliation, and Spiarea Ulmaria Flower and Tasmanian Pepper extracts for calming and soothing.
Detoxify and protect the skin from environmental free radicals while replenishing the skin's natural hydration and elasticity.
Vortex-Fusion
The vortex fusion delivery system is unique to the hydrafacial system. Spiral shaped heads together with vacuum technology create a vortex effect to help dislodge impurities. At the same time the hydrafacial heads are able to push hydrating skin solutions with antioxidants into the skin.
A variety of different head designs and tips mean the hydrafacial system can be used not just on the face but for different skin conditions as well as on different parts of the body such as the back and the scalp.
Antiox+ Skin Solution
The Antiox+ Skin Solution is fused into the skin using the Hydrafacial Vortex-Fusion System. Antiox+ Skin Solution reduces the appearance of fine lines and wrinkles while helping to improve hydration and elasticity. This also naturally detoxifies and helps fight against environmental free radicals and combines deeply moisturising hyaluronic acid with detoxifying antioxidants and firming peptides. 
Antiox+ Skin Solution contains low molecular weight hyaluronic acid for moisturising, Miehei Mucor extract for gentle enzymatic brightening, green tea extract as an antioxidant, arnica flower extract for calming, mineral skin conditioners, and red algae extract for brightening and stimulating collagen production.
As an optional extra following the initial three steps of the hydra facial you can choose to incorporate a booster for bespoke skin rejuvenation.
The ReGen GF booster is a skin perfecting protein solution. It helps through regenerative peptides to mimic growth factors to boost the production of collagen and elastin. 
The Britenol booster is an Alpha-Arbutin and Vitamin C brightening solution. The Britenol booster helps to brighten and balance skintone while minimising the appearance of dark spots and sunspots. Its key ingredients are alpha-arbutin, vitamin C and bearberry extracts for brightening and as an antioxidant. 
DermaBuilder booster is an advanced age refining peptide complex that helps move the appearance of fine lines and wrinkles and enhances skin elasticity. 
In keeping with our range of Zein Obagi skincare, we also offer boosters that go hand-in-hand. The Hydrafacial ZO Brightalive and ZO Rozatrol boosters for hyperpigmentation and redness associated with rosacea work with existing hyperpigmentation and rosacea skin care products.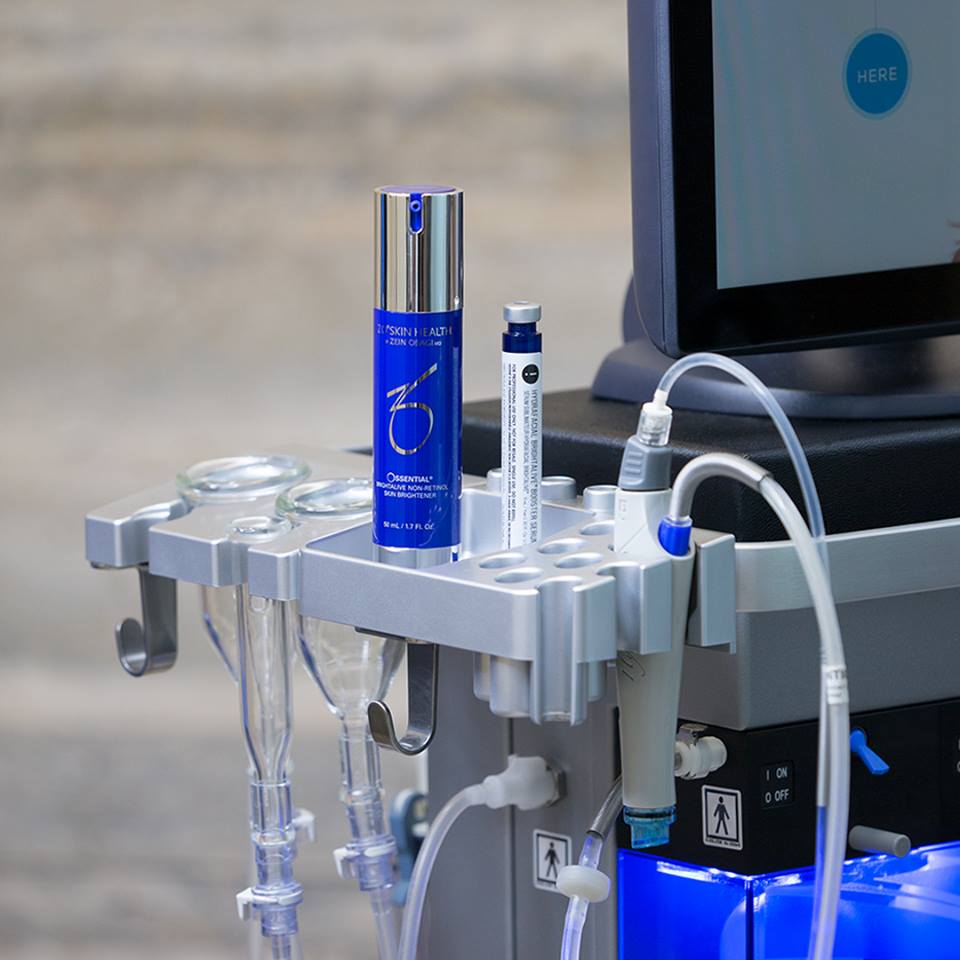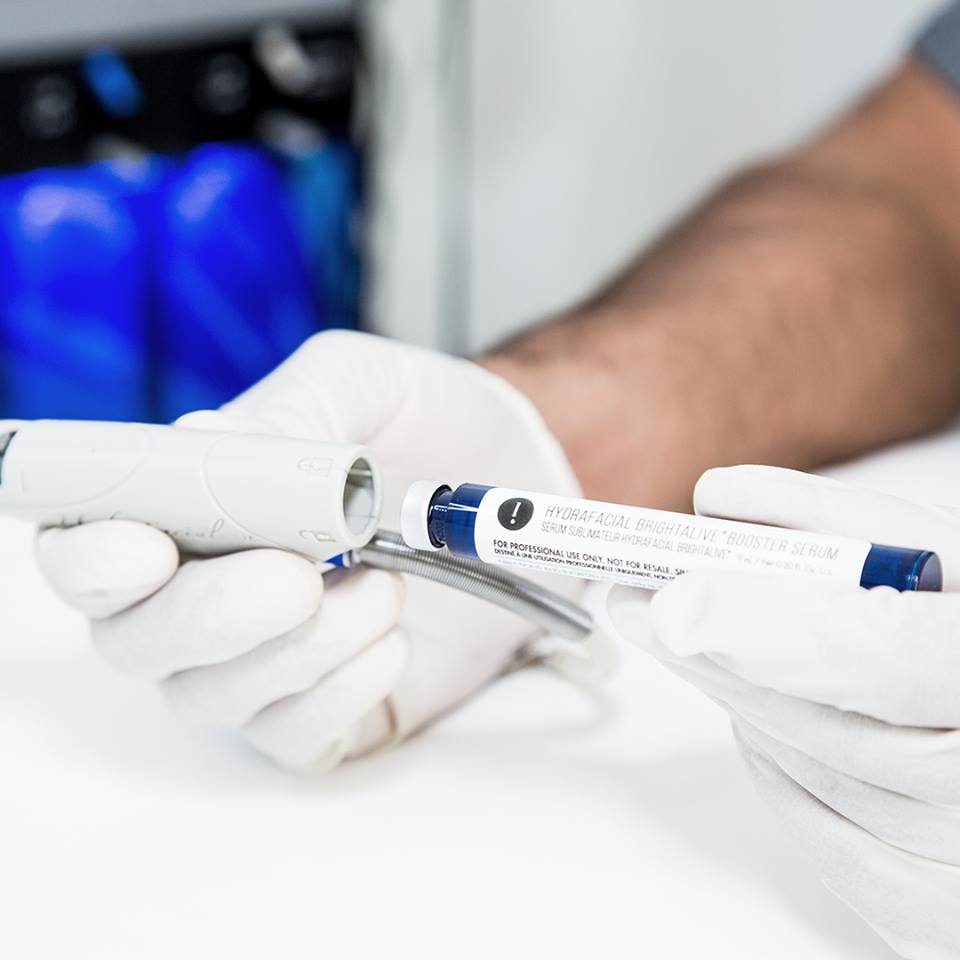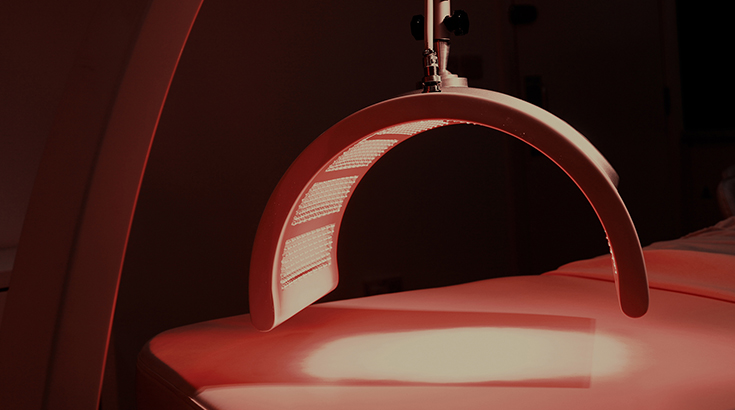 The hydrafacial system comes with a built-in LED light therapy. At Rejuvence we go one step further and offer Dermalux treatment with all our hydrafacial treatments. Dermalux LED consists of red LED light, blue LED light, and green LED light. There is also an infrared setting available to incorporate with all treatments.
The red light works at a wavelength of 620 to 630 nm and helps to increase collagen production and restore cellular function within the skin. Blue light works at a wavelength of 450 to 495 nm and helps destroy bacteria and minimise redness and irritation. This is particularly useful in the case of acne which can often be complicated with a specific bacteria called p acne.
Learn more about Dermalux and what it can do for your skin here. 
Is the Hydrafacial System just for the face?
No. The hydrafacial system can be used for treatment of skin all over the body. There are specific protocols designed for treatment of the back of the hands, legs, arms, and back. The three step approach combining exfoliation, chemical peel, extraction and vortex-fusion can significantly improve skin on all parts of the body and this is especially the case when combined with bespoke tailored skin boosters.
Your skin may experience temporary irritation, tightness or redness. These are all normal reactions and typically resolve within 72 hours depending on skin sensitivity.
You may experience tingling and stinging during the treatment in the treatment areas. These sensations generally subside within three hours of treatment.
Clients' experiences may vary with some people experiencing a delayed onset of the previously mentioned symptoms. Contact us immediately at Rejuvence if you experience any unusual side-effects or symptoms that continue to worsen over time.
You will likely see results immediately after treatment and your skin will feel smooth and hydrated for one to 4 weeks. For improved, longer lasting results, consider take-home products that can be discussed with our aestheticians. The use of these products during and after your treatment as well as a monthly hydrafacial treatment can make a huge difference to your skin.
The treatment area is more susceptible to damage from the sun and hyperpigmentation and hence we advise all clients to avoid direct sun exposure and use a minimum of SPF 40 sunscreen.
Aggressive exfoliation, waxing and products containing acid should also be avoided in the treatment area for at least two weeks before and after treatment. Our aestheticians will be more than happy to provide further details regarding specific aftercare for your Hydrafacial at Rejuvence.
Can hydrafacial be combined with other treatments?
The hydrafacial system has been found to respond to other treatments, including fractional ablative lasers, nonablative lasers, energy-based devices such as radio-frequency, microneedling, toxins, fillers and even surgical procedures. Studies show that the hydrafacial system further increases antioxidant levels and results in positive histological and physiological changes compared to what can be expected from these other treatments on their own.
The contributions of the hydrafacial system to aesthetic and surgical rejuvenation include improved healing through detoxification, increased hydration to improve the penetration of treatments and products, with enhanced treatment outcomes and promotion of skin health.
At Rejuvence we recommend hydrafacial treatments prior to and after all of our facial procedures including surgical scar revisions and excisions as well as some filler and toxin treatments. 
#Get your glow on!