Sun damage is the result of the effects of ultraviolet radiation (UV) on the skin. UVA and UVB radiation exposure is not limited to clear skies and hot summer days. Evan on a cloudy day more than 80% of UV radiation is able to penetrate through to the earth's surface. UVB results in direct damage to the superficial layers of the skin (epidermis) and is responsible for sunburn. UVA is absorbed by the deeper layers of the skin (dermis) and accelerates the ageing process.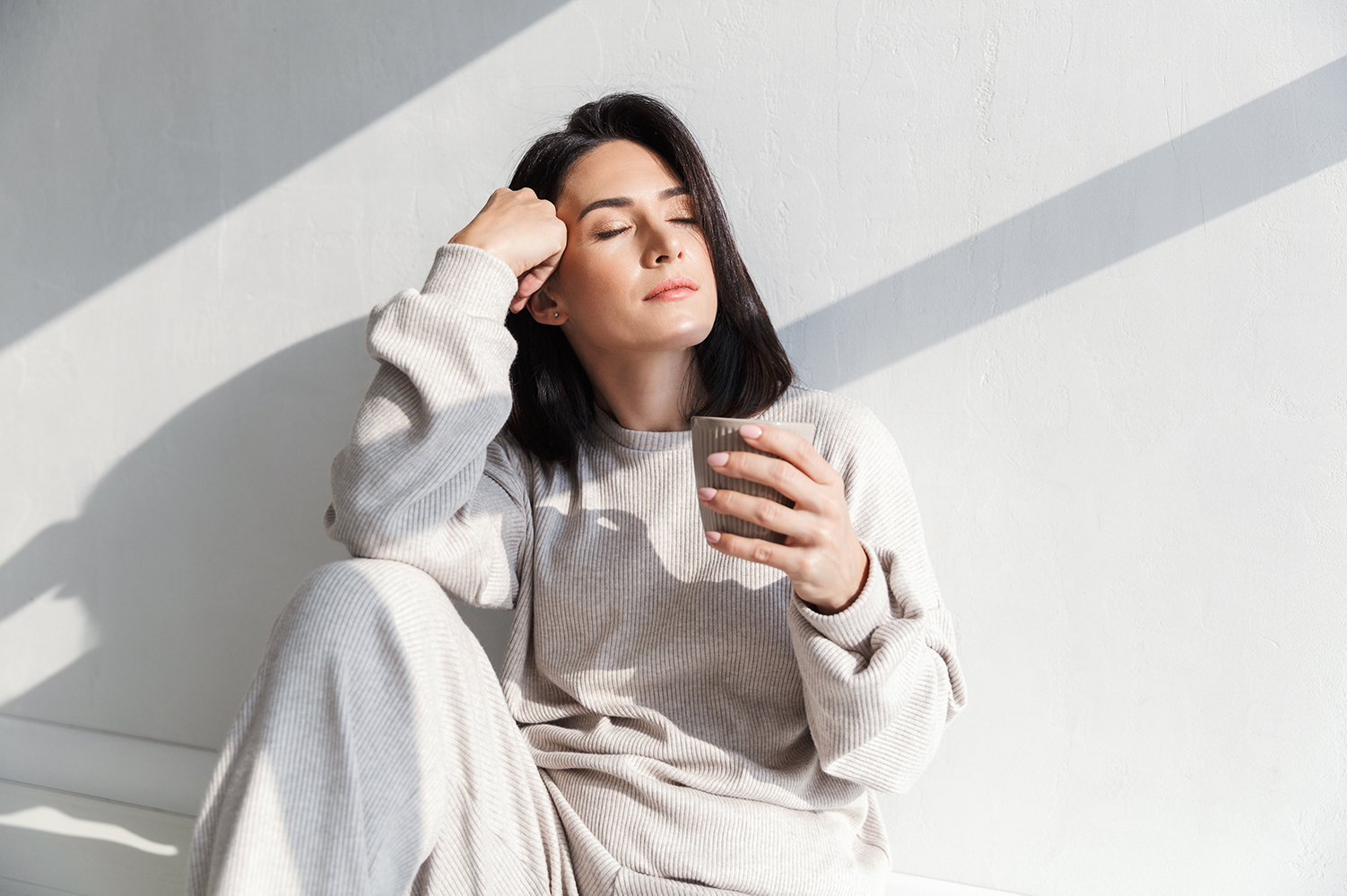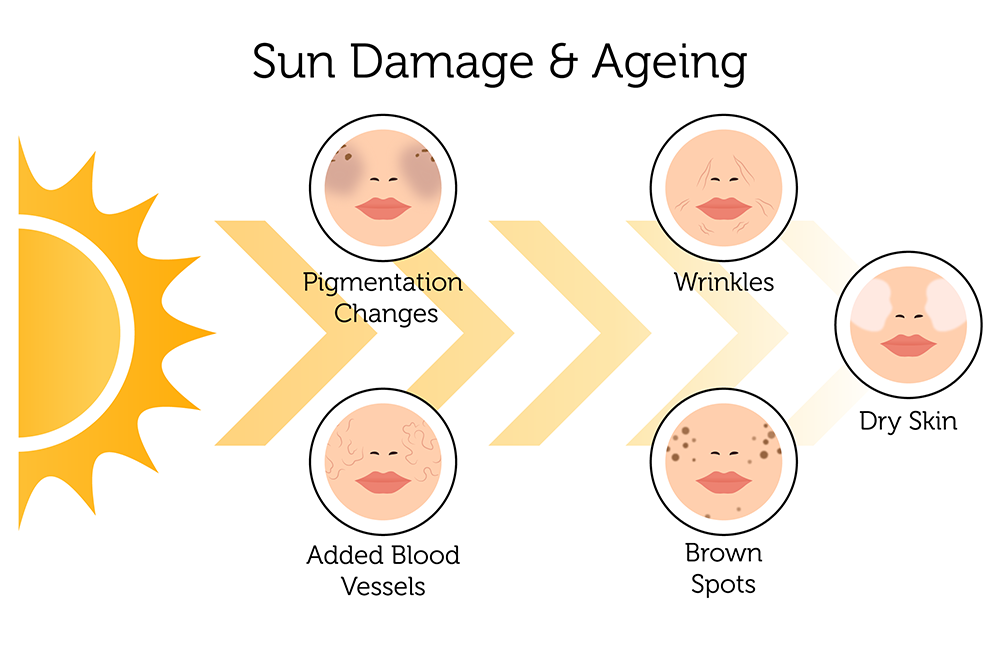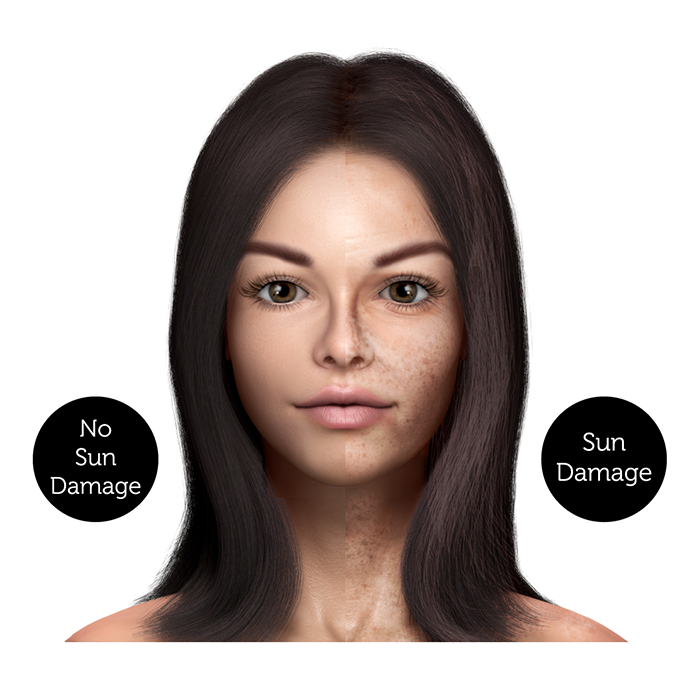 How does the sun damage the upper layer of the skin (epidermis)?
The main components of the epidermis are keratinocytes and melanocytes (cells containing melanin that provide colour to the skin). These cells bear the brunt of damage from excessive sun exposure. Melanocytes increase in size and become more branched. They contain melanin that provides pigment to the skin. Over exposure to sunlight can cause irregular pigmentation. Excessive sun exposure can cause regions of the epidermis to thin out whereas other areas can thicken. Years of sun exposure can result in the development of sunspots that go onto develop into forms of cancer.
How does the sun damage the deeper layers of the skin (dermis)?
The main components of the dermis are collagen and elastin. Collagen provides the skin with its tensile strength. Elastin gives the skin its elasticity. As we age the amount and quality of collagen and elastin reduce. With excessive sun exposure there is an increase in the production of elastin but it is of very poor quality. Interactions between elastin and collagen are compromised and the result is a tangled mess.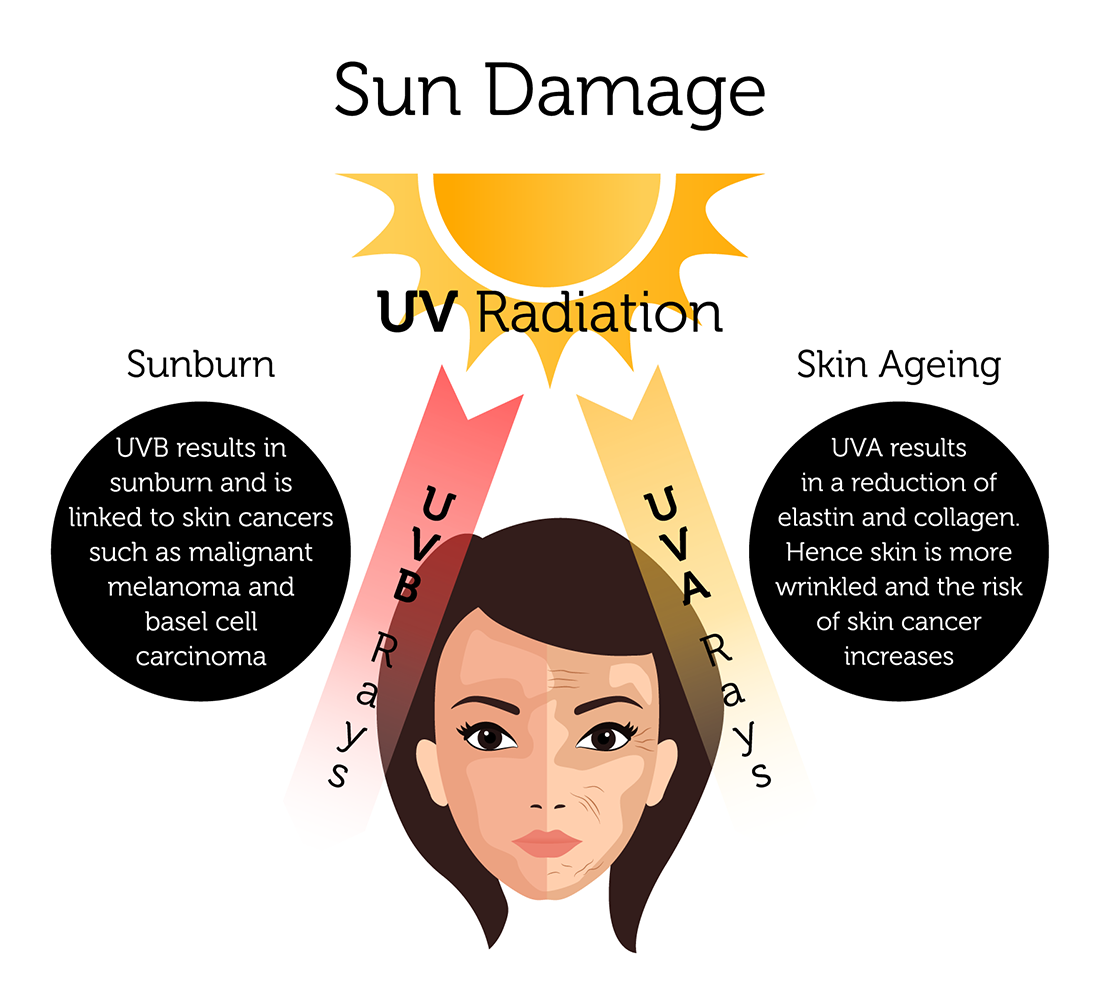 TREATMENT OPTIONS FOR SUN DAMAGE
Chemical Peels:
Obagi Blue Peel Radiance 
ZO Three Step Peel 
Platelet Rich Plasma
(includes microneedling)
ZO Daily Skin Care Program 
ZO Aggressive Anti-aging Program 
At Rejuvence we are firm believers that prevention is better than cure. Excessive sun damage is the main cause of premature ageing. Indeed ageing is often categorised into intrinsic and extrinsic ageing. Intrinsic ageing is defined as genetic or natural ageing. Extrinsic ageing is ageing that is the result of external and lifestyle factors such as sun exposure and smoking. Overall it has been estimated that 90% of skin ageing is due to extrinsic factors as opposed to intrinsic. We have great control over how we age. Take control and for the damage that already exists we are here to help to reverse the signs.