VASER Lipo & RENUVION - Thighs & Calves
At Rejuvence we were the first clinic in the UK to offer the revolutionary Renuvion treatment. Dr Jack Zamora, a cosmetic surgeon based in Denver, Colorado, pioneered this technique using an innovative helium based plasma device known as J-Plasma. J-Plazty is a minimally invasive technique that can be used to tighten loose and crepey skin in different parts of the body that result from the normal ageing process as well following weight loss and after pregnancy.
Thighs and hips can be extremely difficult to tone and tighten. Interval training and weights can help but for many getting an athletic shape can still be very difficult. In women cellulite and stretch marks are almost inevitable and have very few treatment options. VASER liposuction can be used to help thin out the thighs and provide some shape. However, often patients are left with loose skin and persistent cellulite. In the UK we are the first clinic to offer J-Plazty with all our VASER treatments. This is a revolutionary skin tightening treatment that can also help to significantly improve cellulite and can even reduce the appearance of stretch marks.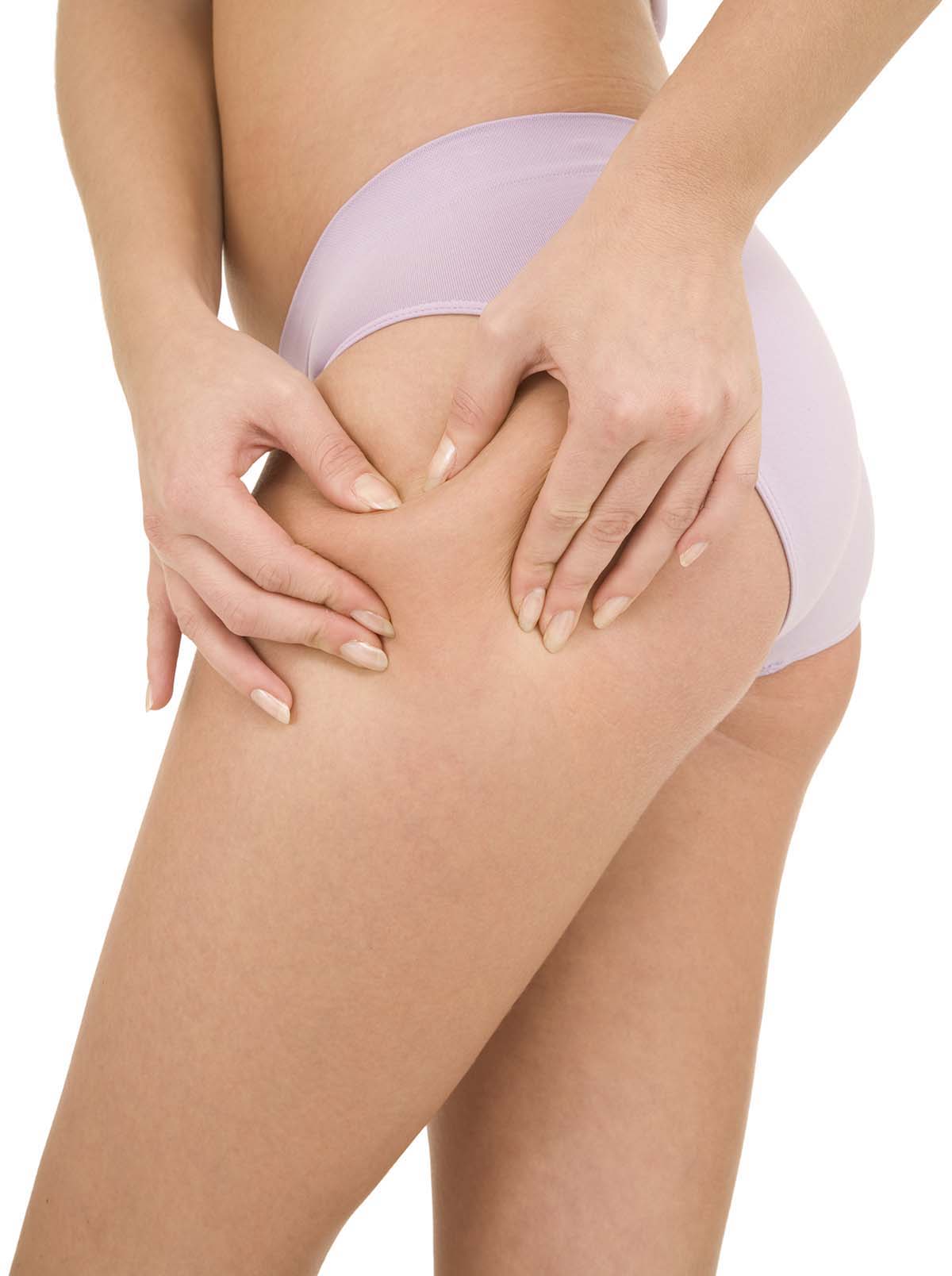 J-Plazty Thighs is a ground breaking innovative skin tightening procedure that provides significant improvement in loose skin around the thighs. It is minimally invasive, providing results superior to radio-frequency and ultrasound based over the skin treatments such as Sculpsure and 3D Lipomed. It also costs significantly less than disfiguring surgery with a much quicker recovery. It is performed under sedation. When coupled with VASER, liposculpting can be carried out to slim down and shape thighs as well as smooth out rolling cellulite. Skin is tighter and smoother especially over areas with significant cobblestone and rolling cellulite.
Who is a candidate for J-Plazty Thighs?
J-Plazty is appropriate for both men and women between the ages of 30 and 80 years of age. It is effective in the treatment of moderately loose skin, rolling cellulite and even cobblestone cellulite. VASER liposuction can be used to slim down the upper inner thighs as well as the outer thigh. It is also used to lift skin around the back and front of the thighs. The VASER helps break up the uneven connections of the fibroseptal network that is often the cause of cobblestone and rolling cellulite. VASER is effectively used to plane the fatty surfaces of the thigh. This is then followed up with J-Plazty that helps to significantly tighten skin as well regenerate collagen and elastin. Skin is tighter and cellulite affected areas appear smoother with fewer rolls and cobblestones. It can even improve the appearance of the skin and reduce stretch marks. Where there has been significant weight loss, the only option for tighter skin may be a thigh lift. However, even in extreme cases, and where clients are keen to avoid big scars, J-Plazty can still provide noticeable improvements.
How is J-Plazty Thighs performed?
J-Plazty uses the power of cold J-Plasma. Plasma energy has replaced traditional laser devices and is able to achieve better skin tightening and helps to increase collagen and elastin. J-Plasma uses helium resulting in cold plasma energy that is extremely precise making it safer than other alternatives on the market. J-Plazty Thighs is performed under sedation. Small incisions are made in the groin, top outer thigh and just above the knee. After completing any necessary VASER liposuction the J-Plasma wand is inserted through the same port incisions and used to treat the underside of the skin. This helps to tighten and rejuvenate the skin from the inside out.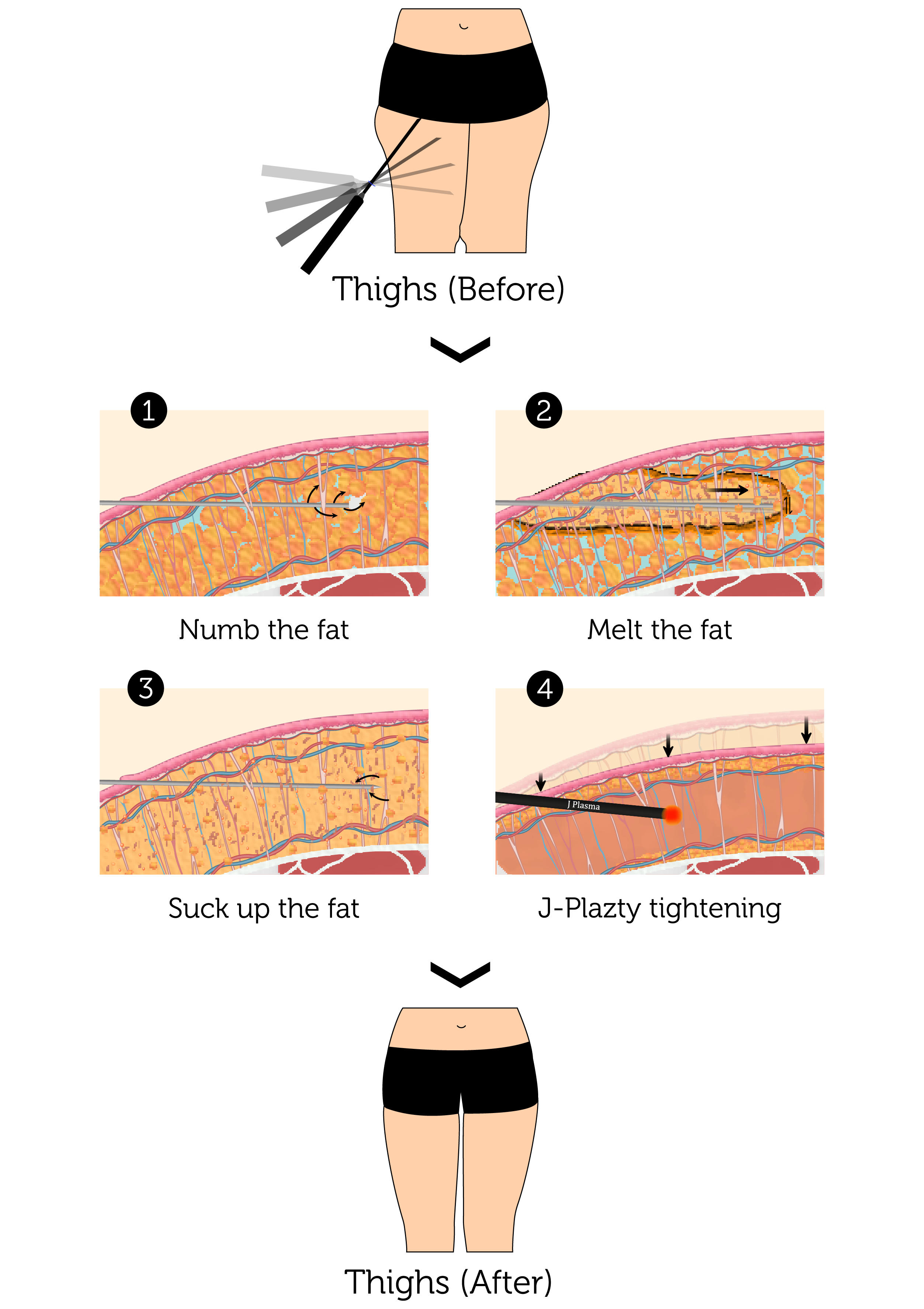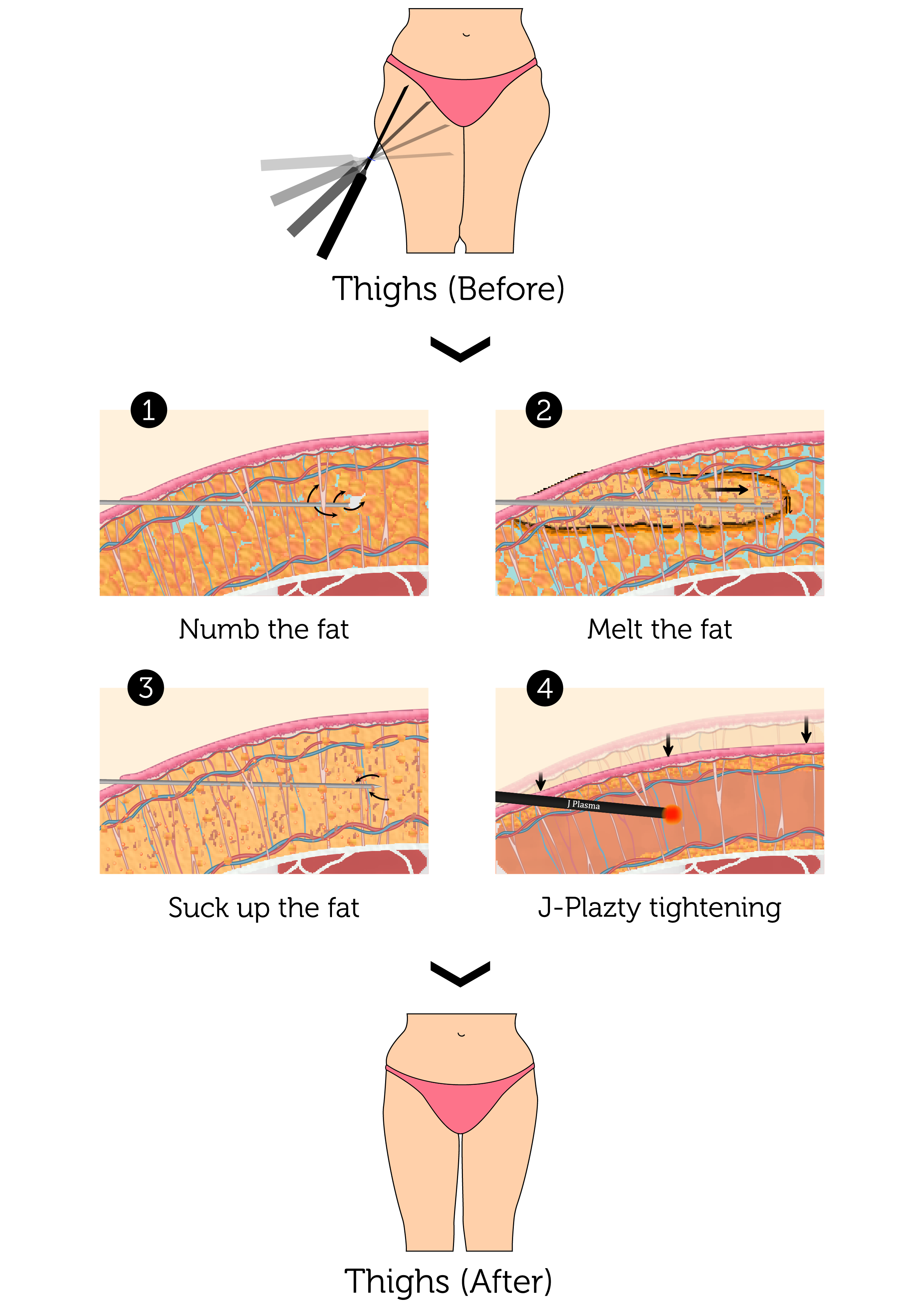 What treatments are currently available for skin tightening and cellulite?
Options for tightening skin in the thighs are very limited. Often the only option is an expensive surgical thigh lift but this will result in disfiguring scars and a painful post-operative recovery. Over the skin tightening treatments using radio frequency or HiFu ultrasound are not very effective in the thighs. Effective treatments for cellulite are also few and far between.
The downtime from J-Plazty Thighs is significantly shorter than a thigh lift. Post- operative recovery is very similar to VASER liposuction. Following the procedure clients are asked to wear a tight compression garment for the first 72 hours and then continue to wear this as much as possible for the next few months. The compression garment is critical to the final result and the tighter it is the better the results. There can be some oozing from the incision sites that are often left to heal naturally. There is minimal pain associated with the procedure and paracetamol will often suffice. We recommend our clients take 4 to 5 days off work. It is advisable to avoid any strenuous exercise for at least 3 weeks and no weight training for 4-6 weeks. 
The results of J-Plazty Thighs will be noticeable soon after the procedure. The results will continue to improve over the course of 3 to 6 months as there is continued skin contracture and generation of new collagen and elastin. Improvements in cellulite and stretch marks take a similar time to improve. It is imperative a tight compression garment is worn throughout the recovery phase as this will dictate the final result. We also recommend regular lymphatic drainage massage and can help to find a provider for you in your local area. 
For further information book a consultation at Rejuvence to find out if you may be a candidate. Click the book online tab or call 0207 531 6600. Alternatively send us a message on WhatsApp to start a conversation.
Following all J-Plazty and VASER liposuction procedures the application of a compression garment is essential. Compression garments are tight fitting garments that are worn immediately after the procedure. They apply constant pressure against the body and help to squeeze fluid out. They are essential for shaping and optimising the final result. 
In the case of J-Plazty Skin Tightening with Renuvion compression garments take on extra significance. The compression garment prevents further swelling of the treated underside of the skin. This ensures that the skin remains more tight and heals well. Without compression there is continued swelling and this will compromise your final result. 
The compression garment should be worn for 24hours a day for the first 2 weeks after your procedure. At this point we encourage all our clients to try to get into a garment one size smaller to provide even more compression. Often a board and waist trainer can also be extremely helpful. Good back posture is extremely important especially when it comes to skin tightening for abs.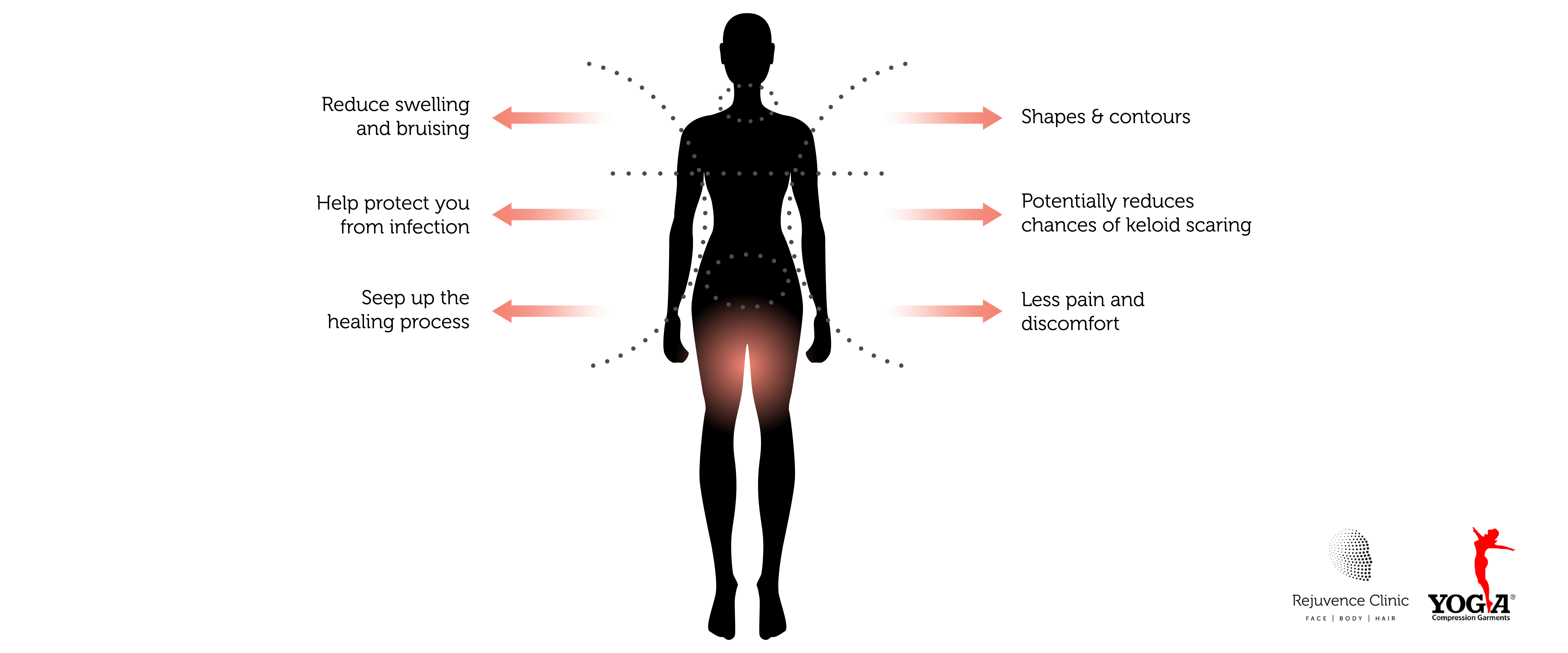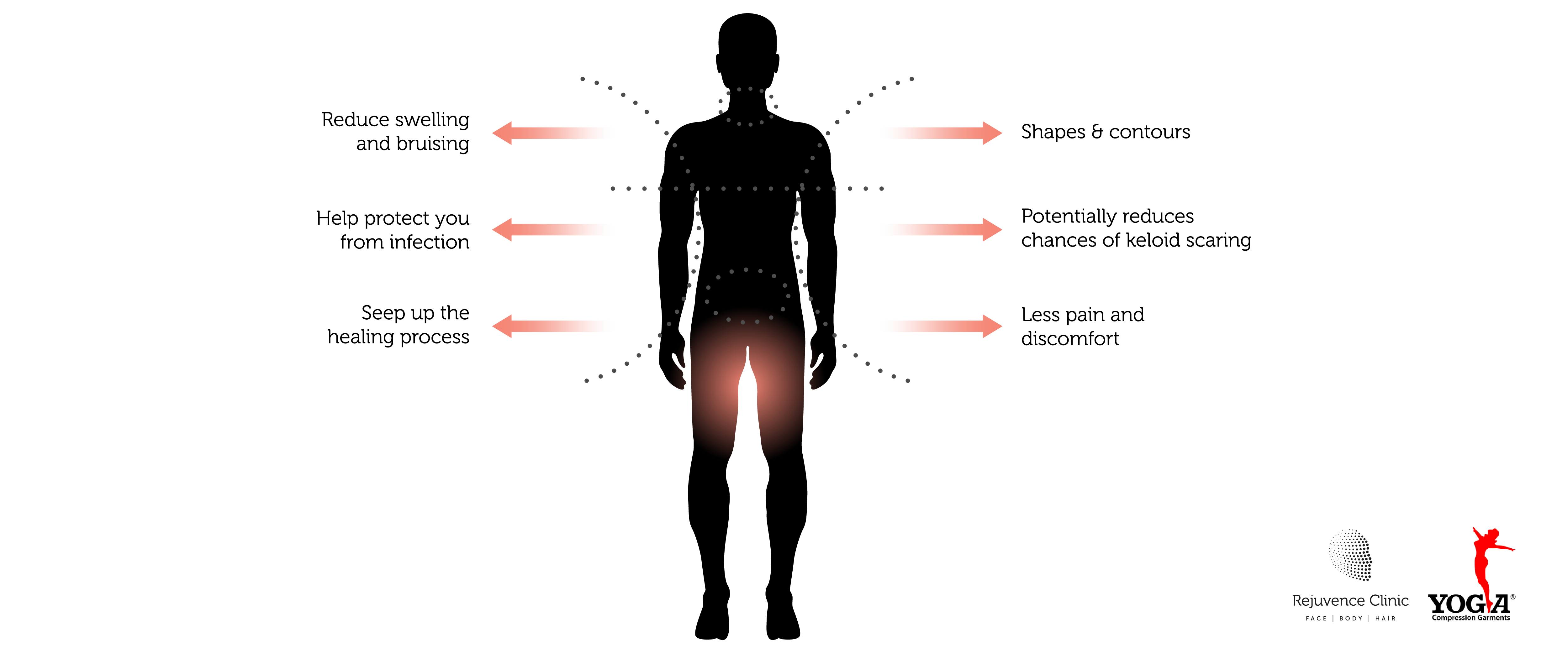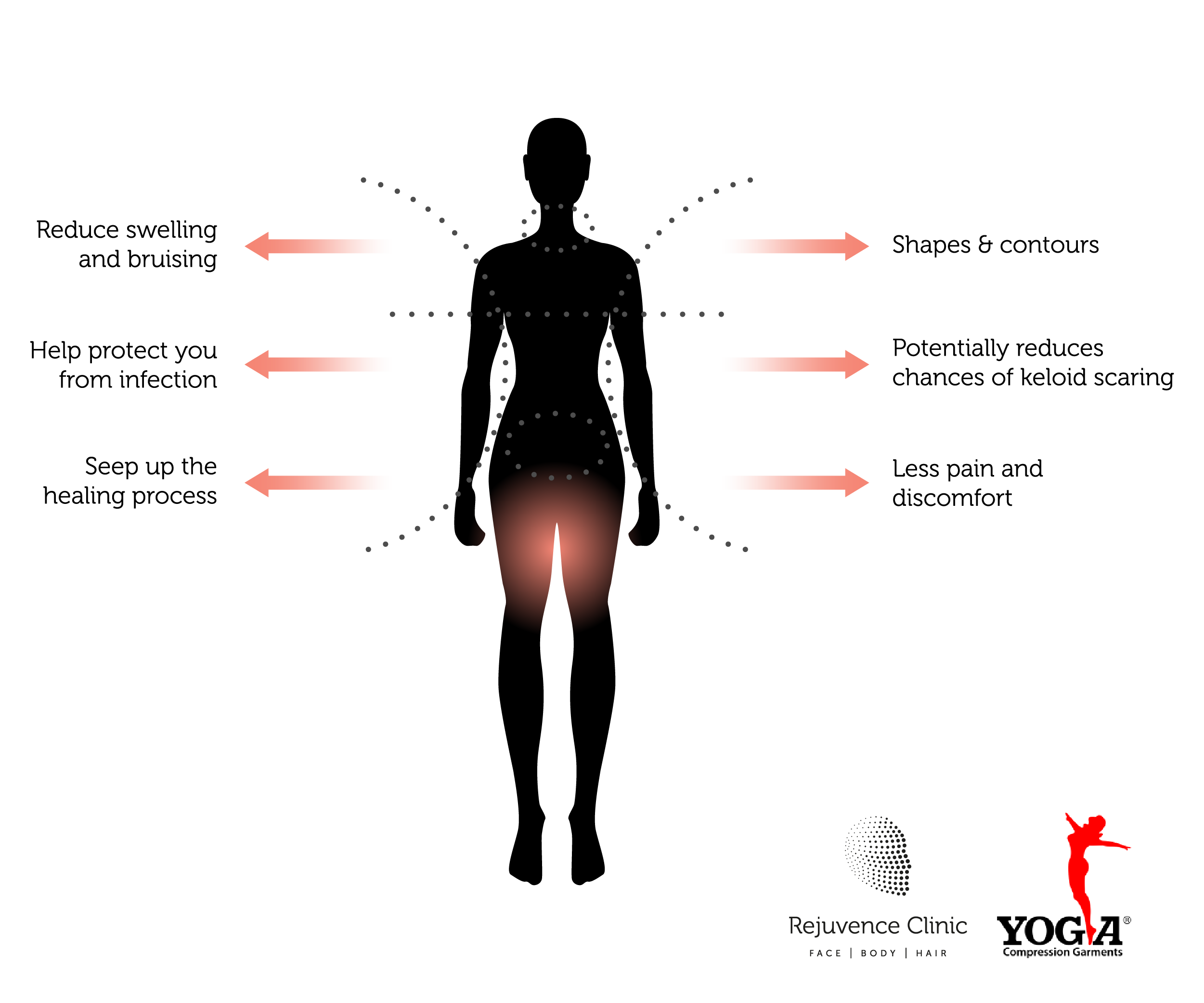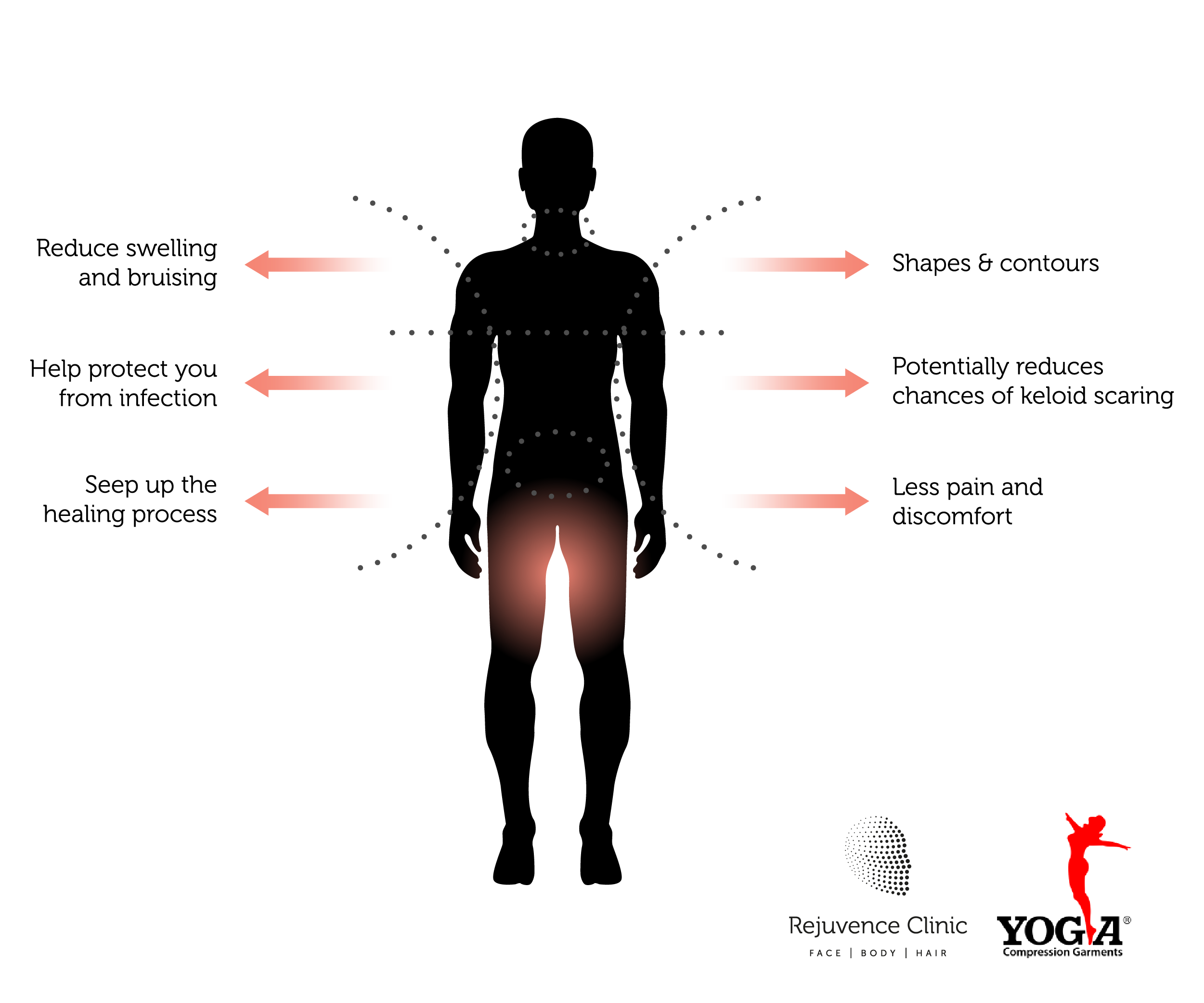 Manual Lymphatic Drainage (MLD) Massage
MLD is a hugely important part of the recovery from J-Plazty Skin Tightening and VASER liposuction. MLD is a specialised form of massage that helps the body rid itself of fluid that is left behind after body contouring procedures. It also helps to smooth out the skin and shape redistribution of fat in the treated areas. 
MLD together with compression after liposuction and Renuvion skin tightening is just as important as the procedure itself. Without MLD and compression the best results cannot be achieved. We recommend at least 5-10 sessions over a period of 2 to 5 weeks starting within 5 days of your procedure.
At Rejuvence we have our own in house MLD therapist and can provide you with a complete package. Our therapist trained in Brazil and has a huge amount of experience with both VASER liposuction and J-Plazty patients.