At Rejuvence we are the first clinic in the UK to offer the revolutionary J-Plazty treatment. Dr Jack Zamora, a cosmetic surgeon based in Denver, Colorado, pioneered this technique using an innovative helium based plasma device known as J-Plasma (Renuvion). It has been featured widely in the American media and taken the US by storm. J-Plazty is a minimally invasive technique that can be used to tighten loose and crepey skin in different parts of the body that result from the normal aging process as well following weight loss.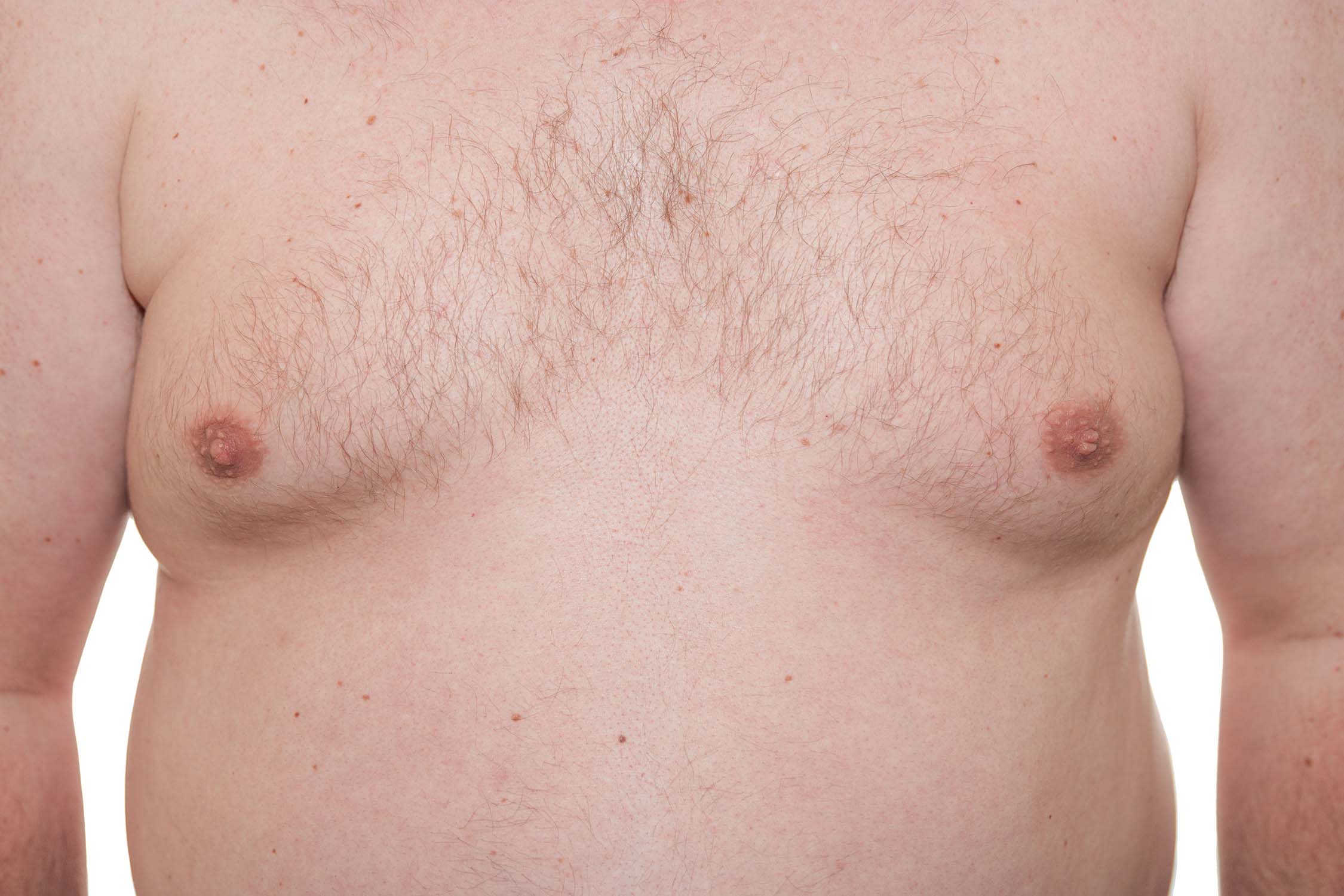 Gynaecomastia is the medical term for overdeveloped breast tissue in men. It can be the result of excess fat deposition in and around normal glandular tissue in which case a healthy diet and regular exercise should be sufficient to reduce this. However, in certain cases, stubborn amounts of fat and well developed glandular tissue remain, no matter how much exercise is done. This type of gynaecomastia usually has a hormonal component and hence some form of cosmetic treatment is normally required. The psychological distress that is associated with gynaecomastia is very well documented and at Rejuvence Clinic we take this very seriously. 
Who is a candidate for J-Plazty Gynaecomastia?
The typical candidates for J-Plazty Gynaecomastia are males more than 20 years of age who have developed loose skin and excess fat around the pectoralis muscles with overdeveloped breast glands.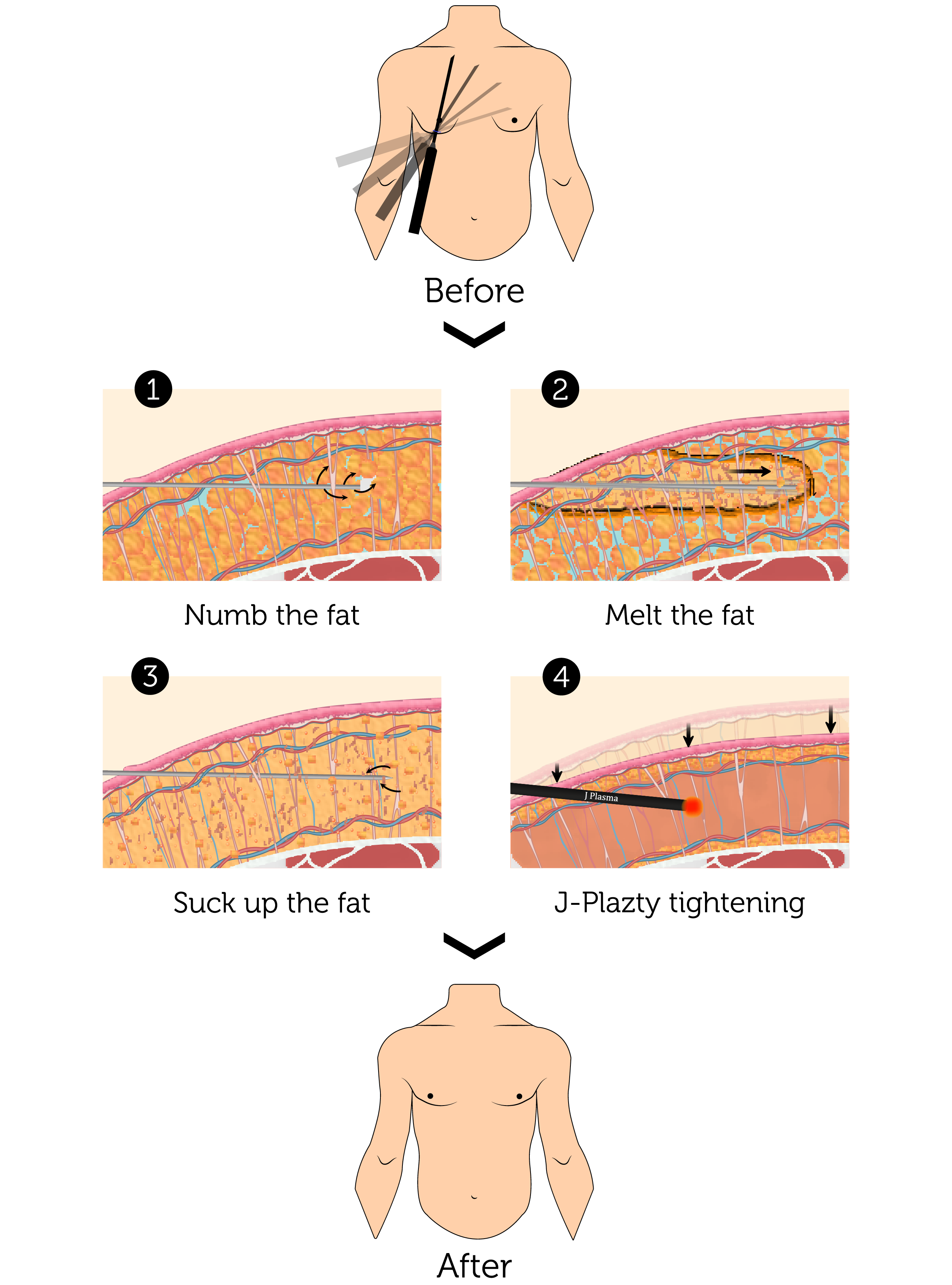 How is J-Plazty Gynaecomastia performed?
After VASER liposuction and removal of excess fat from the chest, the underside of the resulting skin envelope is treated with cool helium plasma using the J Plasma wand. The J Plasma wand is inserted through the same port sites used for VASER. Following 4 passes with the J Plasma wand, skin becomes significantly tighter. Over the next 3-6 months new collagen and elastin is formed in the subdermal region and the fibro-septal network is tightened. J-Plazty provides that much needed finishing touch.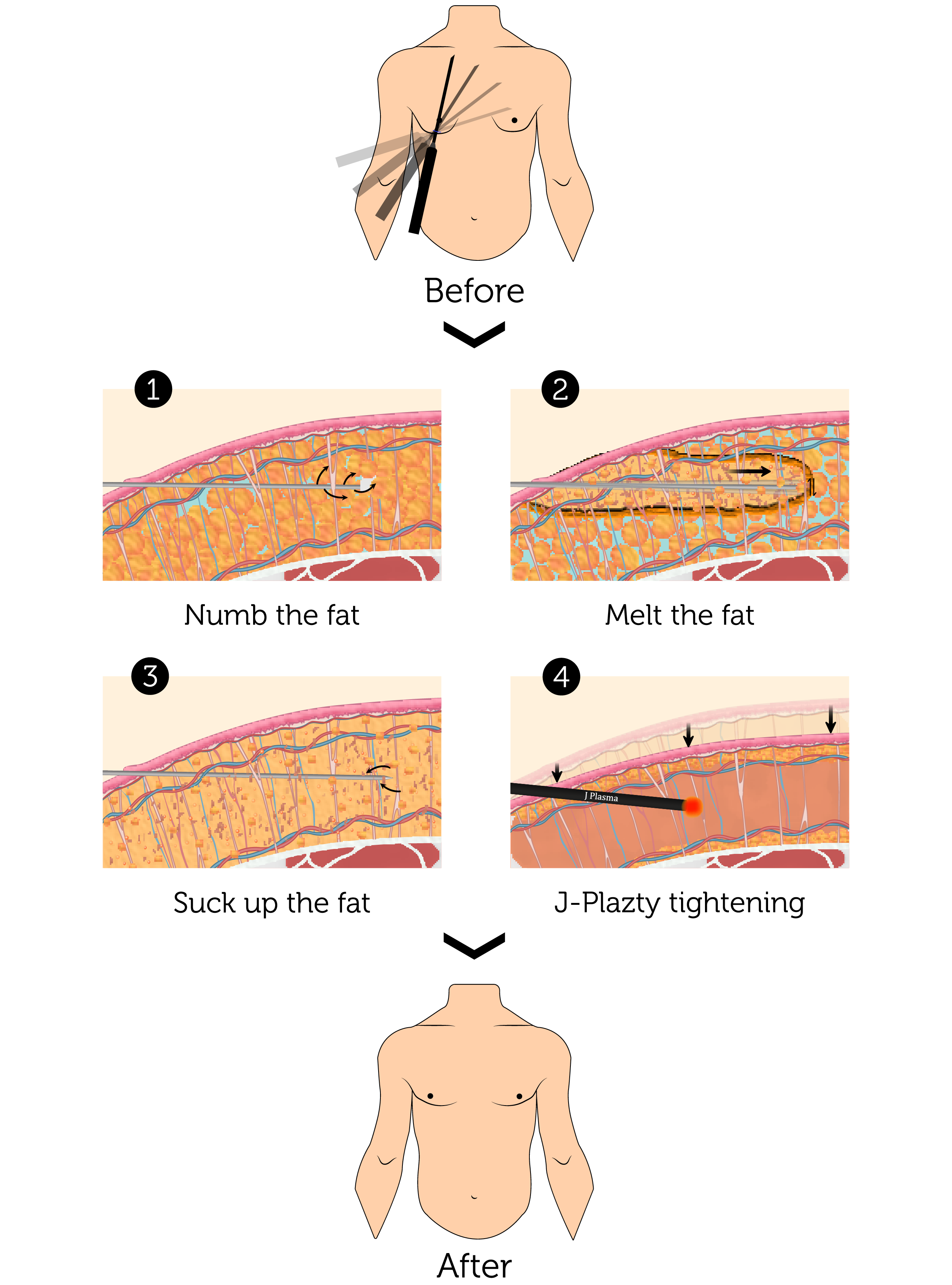 What treatments are currently available for gynaecomastia?
Previously treatment for gynaecomastia was restricted to surgery and involved carrying out a breast reduction with excision of the glandular tissue. This was associated with a prolonged downtime and the potential for complications. More recently, with advances in liposuction technology, it is possible to carry out treatments under local anaesthetic without the need for invasive surgery and at the same time produce more harmonious aesthetic results. VASER liposuction is considered by many to be the liposuction technique of choice. At Rejuvence Clinic we advocate VASER liposuction for the treatment of gynaecomastia and in combination with J-Plazty – exclusively available at Rejuvence Clinic – we are confident of achieving good results. 
©Individual results may vary.
Why choose Rejuvence Clinic?
VASER liposuction is a very effective treatment for gynaecomastia. What sets us apart from the rest is the advent of J-Plazty. We are the first clinic in the UK that offers J-Plazty powered by J-Plasma. This revolutionary technology provides phenomenal skin tightening. Following VASER liposuction moderate amounts of fat can be removed but often you are left with loose and excess skin. The combination of VASER and J-Plazty provides for efficient fat removal and phenomenal skin tightening that ensures an excellent result. For further details please book a consultation. 
Following all J-Plazty and VASER liposuction procedures the application of a compression garment is essential. Compression garments are tight fitting garments that are worn immediately after the procedure. They apply constant pressure against the body and help to squeeze fluid out. They are essential for shaping and optimising the final result. 
In the case of J-Plazty Skin Tightening with Renuvion compression garments take on extra significance. The compression garment prevents further swelling of the treated underside of the skin. This ensures that the skin remains more tight and heals well. Without compression there is continued swelling and this will compromise your final result. 
The compression garment should be worn for 24hours a day for the first 2 weeks after your procedure. At this point we encourage all our clients to try to get into a garment one size smaller to provide even more compression. Often a board and waist trainer can also be extremely helpful. Good back posture is extremely important especially when it comes to skin tightening for abs.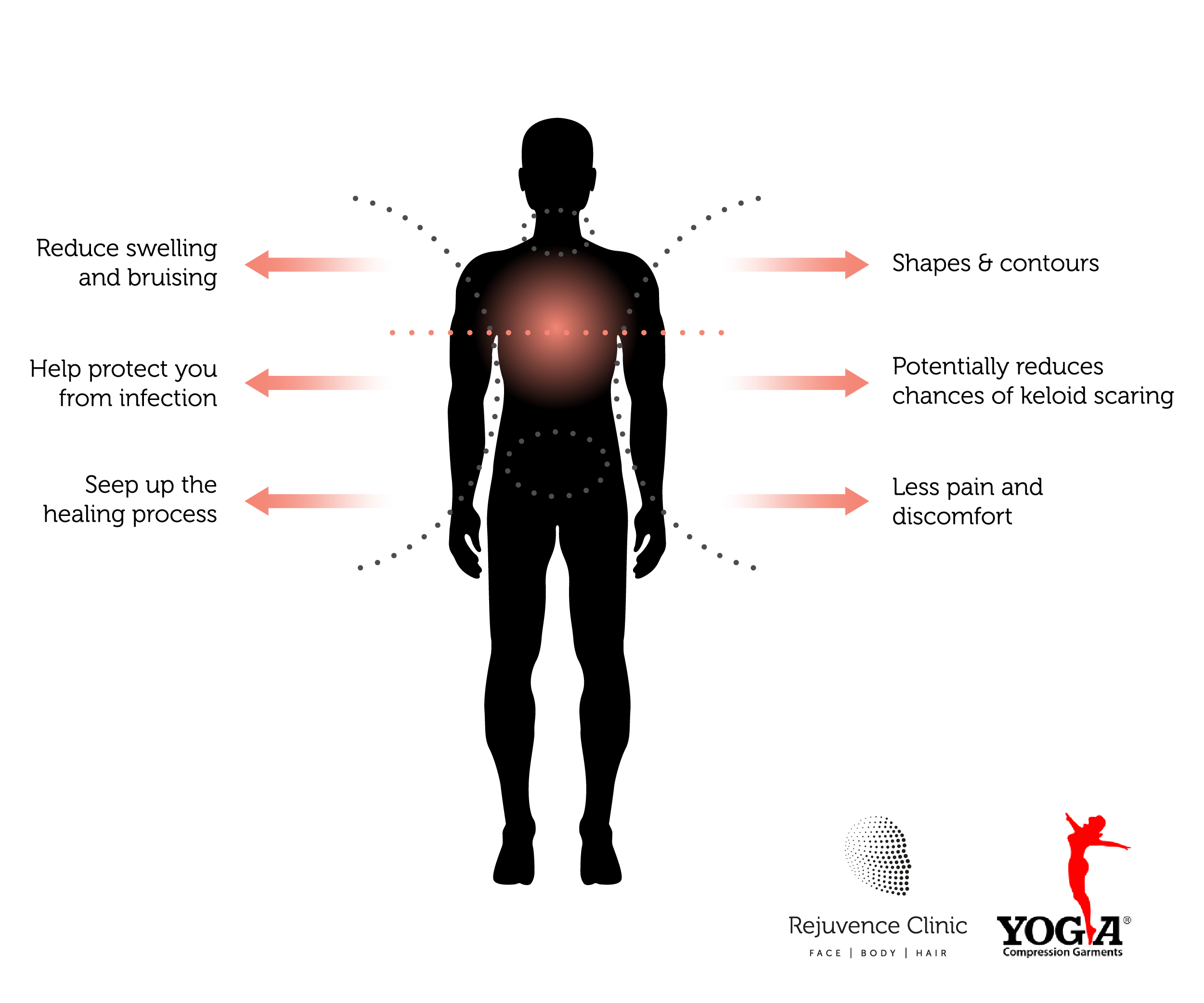 Manual Lymphatic Drainage (MLD) Massage
MLD is a hugely important part of the recovery from J-Plazty Skin Tightening and VASER liposuction. MLD is a specialised form of massage that helps the body rid itself of fluid that is left behind after body contouring procedures. It also helps to smooth out the skin and shape redistribution of fat in the treated areas. 
MLD together with compression after liposuction and Renuvion skin tightening is just as important as the procedure itself. Without MLD and compression the best results cannot be achieved. We recommend at least 5-10 sessions over a period of 2 to 5 weeks starting within 5 days of your procedure.
At Rejuvence we have our own in house MLD therapist and can provide you with a complete package. Our therapist trained in Brazil and has a huge amount of experience with both VASER liposuction and J-Plazty patients.