VASER Lipo RENUVION - ARMS
At Rejuvence we were the first clinic in the UK to offer the revolutionary VASER Lipo RENUVION treatment – also known as J-Plazty. Dr Jack Zamora, a cosmetic surgeon based in Denver, Colorado, pioneered this technique using an innovative helium based plasma device known as J-Plasma.
J-Plazty is a minimally invasive technique that can be used to tighten loose and crepey skin in different parts of the body.
Often referred to as 'bingo wings', with age, many women suffer with excess skin and fat along the underside of the arms. Despite extensive weight loss and no end of exercise, 'bingo wings' are very difficult to shift. Although predominantly affecting women, men can also suffer especially following significant weight loss after bariatric surgery.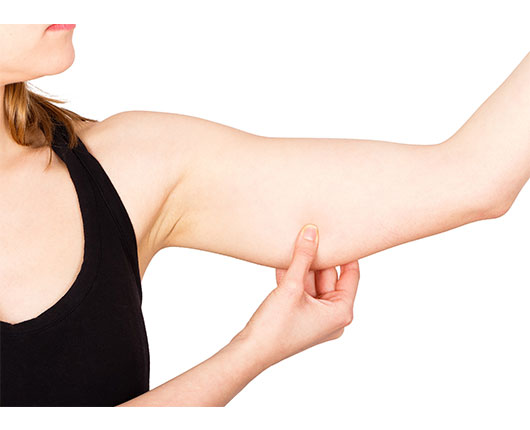 J-Plazty Arms is a minimally invasive procedure performed under local anaesthetic that can provide skin tightening and toning of the arms comparable to a brachioplasty in mild to moderate 'bingo wings'. At Rejuvence we are the only clinic in the UK able to provide this revolutionary treatment. There are no large scars and with the procedure being performed under local anaesthetic, there are fewer risks involved. It costs less than half as much as a brachioplasty. Combined with VASER liposuction large amounts of fat reduction can also be achieved, making it far superior to PDO thread lifts and over the skin treatments. J-Plazty Arms provides phenomenal skin tightening that means where a brachioplasty was previously recommended in moderate bingo wings, patients can avoid this and have J-Plazty instead.
Who is a candidate for J-Plazty Arms?
The typical candidates for J-Plazty Arms are males and females aged between 30 and 80 years of age who have developed excess fat and lax skin behind the arms due to natural aging processes or following significant weight loss thanks to diet, exercise and/or bariatric surgery. J-Plazty Arms is especially fantastic for those who have undergone successful weight reduction surgery that has helped them shed pounds but left them with regions of excess skin – the arms being one of them.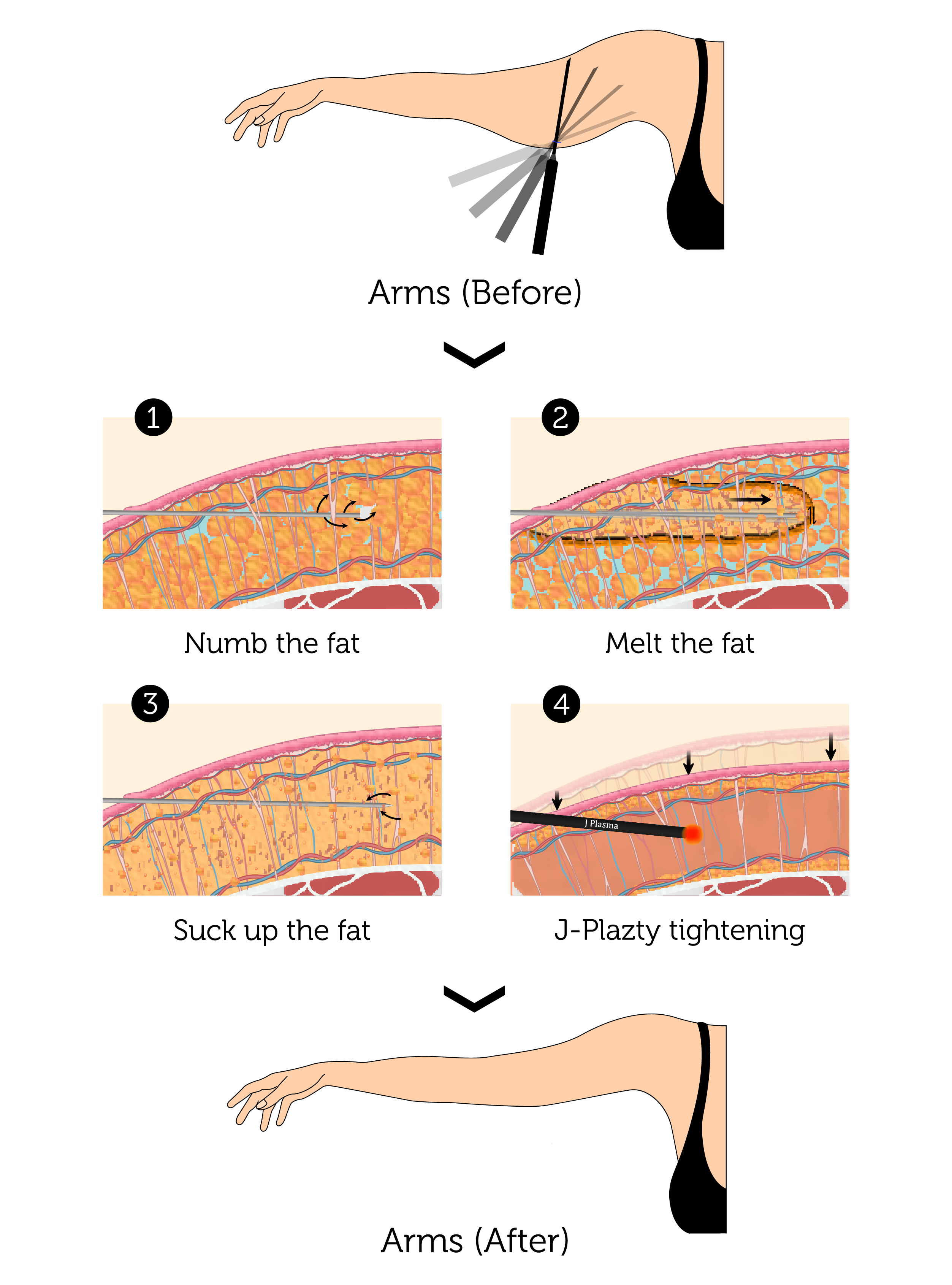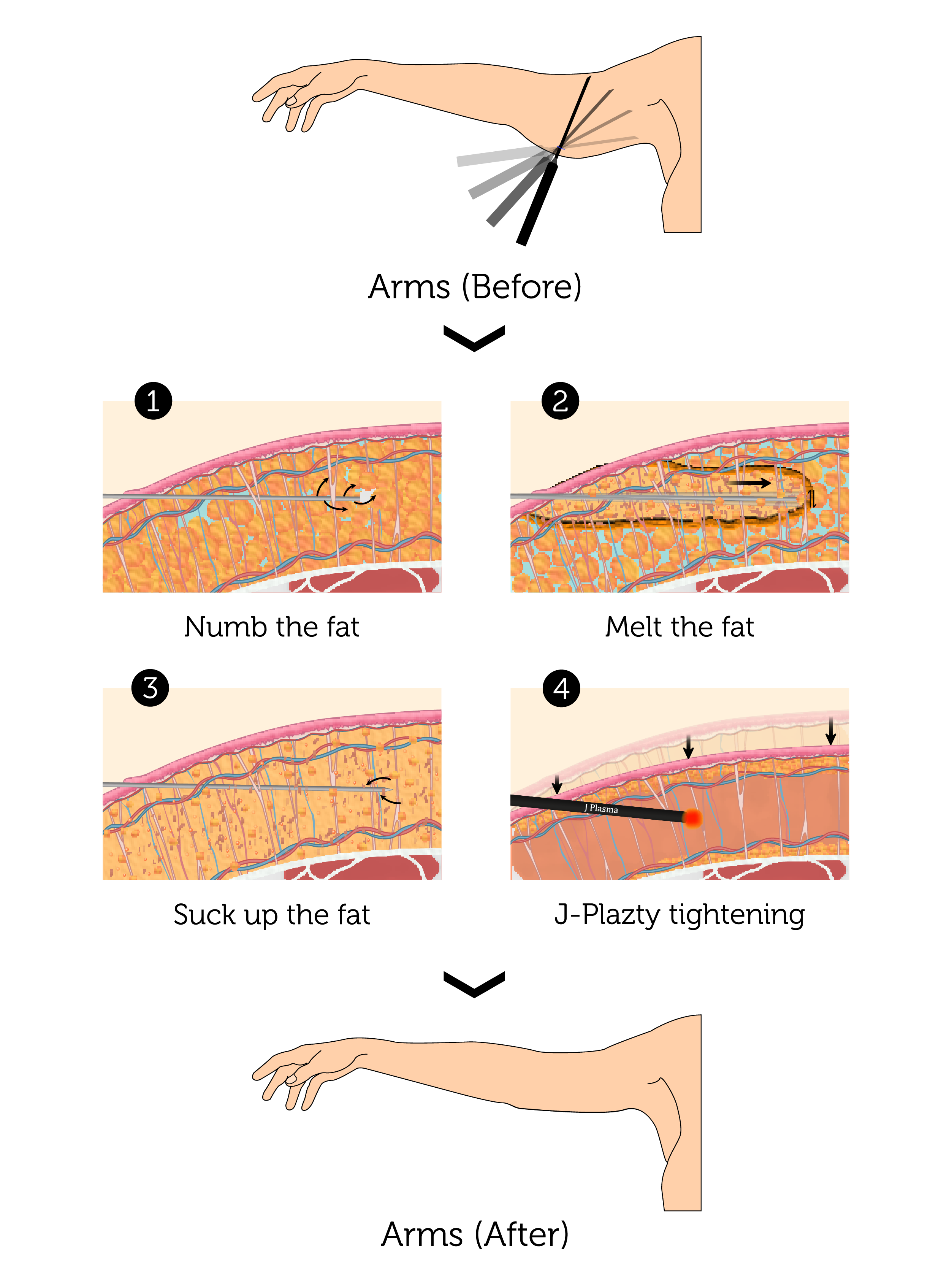 How is J-Plazty Arms performed?
Plasma energy has replaced traditional laser devices and is able to achieve better skin tightening and helps to increase collagen and elastin. J Plasma uses helium resulting in cold plasma energy that is extremely precise making it safer than other alternatives on the market. J-Plazty Arms is performed under local anaesthetic. Small incisions are made behind the shoulder and just above the elbow. After completing any necessary VASER liposuction the J-Plasma wand is used to treat the underside of the skin of the back of the arms. This helps to tighten and rejuvenate the skin from the inside out.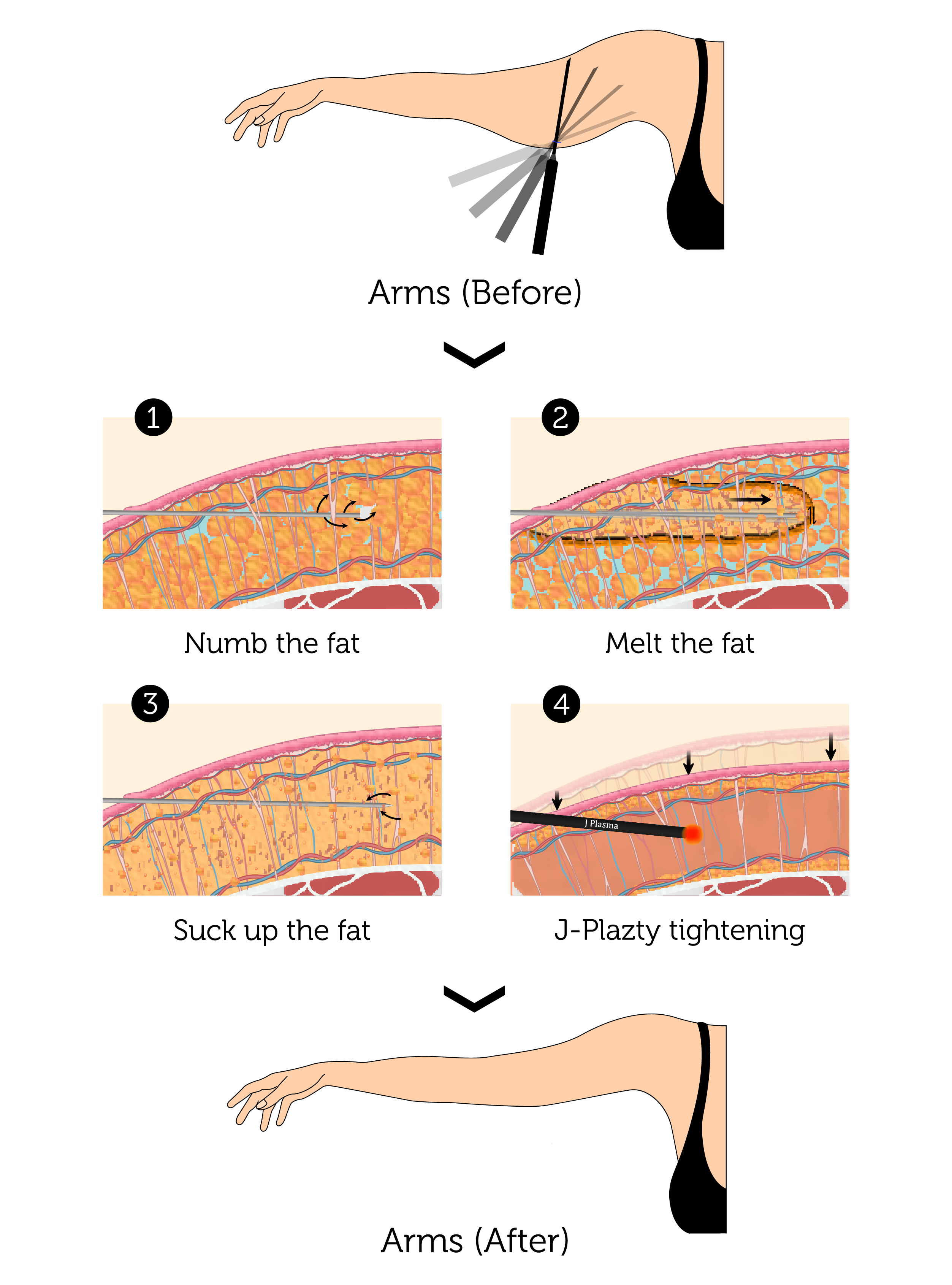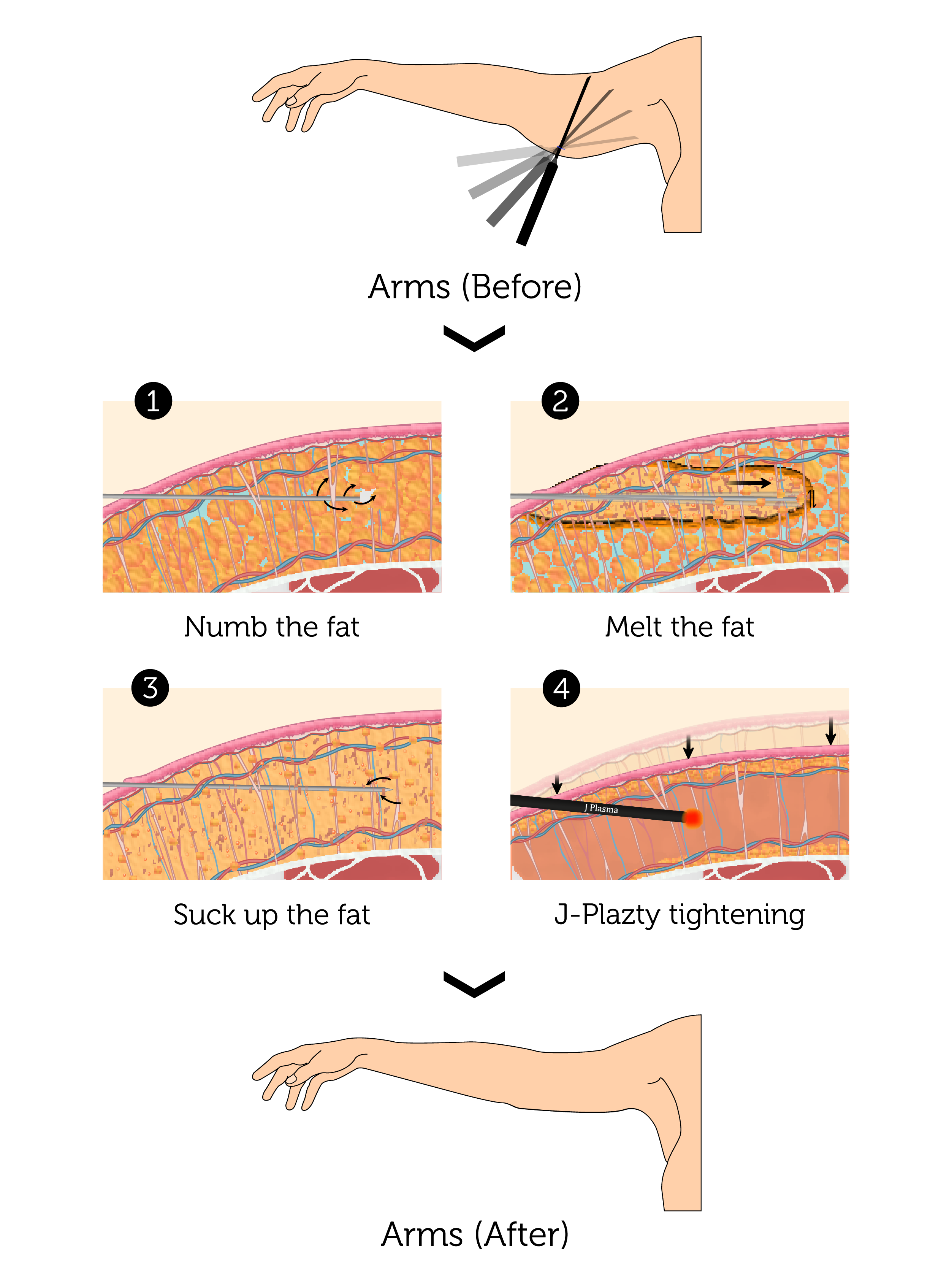 What treatments are currently available for 'bingo wings'?
Treatment options for excess fat and lax skin along the back of the arms are limited. In extreme cases the only option is a brachioplasty – also known as an arm lift. This is a surgical procedure that involves cutting away excess skin and fat from the back of the arms. This is an expensive procedure often costing around £3000 per arm. It also requires a general anaesthetic, prolonged downtime and a large scar often extending from close to the armpits towards the elbow. In the majority of cases such an invasive procedure is not justified and many are put off by the ugly scars left behind. VASER liposuction can provide satisfactory results with some element of skin tightening in mild cases. Non-invasive treatments include the use of PDO threads and over the skin ultrasound and radio-frequency treatments. Results are variable, skin tightening effect is limited and almost no fat reduction can be achieved.
Before
After


Before
After


Before
After


Before
After


Before
After


Before
After


©Individual results may vary
The downtime from J-Plazty Arms is significantly shorter than with a brachioplasty. Post-operative recovery is very similar to VASER liposuction. Following the procedure clients are asked to wear a compression garment for the first 72 hours and then continue to wear this every night for the next 4 weeks. There can be some oozing from the incision sites that are often left to heal naturally. There is minimal pain associated with the procedure and paracetamol will often suffice. We recommend our clients take 2 to 3 days off work. It is advisable to avoid any strenuous exercise for at least 2 weeks.
Following all J-Plazty and VASER liposuction procedures the application of a compression garment is essential. Compression garments are tight fitting garments that are worn immediately after the procedure. They apply constant pressure against the body and help to squeeze fluid out. They are essential for shaping and optimising the final result. 
In the case of J-Plazty Skin Tightening with Renuvion compression garments take on extra significance. The compression garment prevents further swelling of the treated underside of the skin. This ensures that the skin remains more tight and heals well. Without compression there is continued swelling and this will compromise your final result. 
The compression garment should be worn for 24hours a day for the first 2 weeks after your procedure. At this point we encourage all our clients to try to get into a garment one size smaller to provide even more compression. Often a board and waist trainer can also be extremely helpful. Good back posture is extremely important especially when it comes to skin tightening for abs.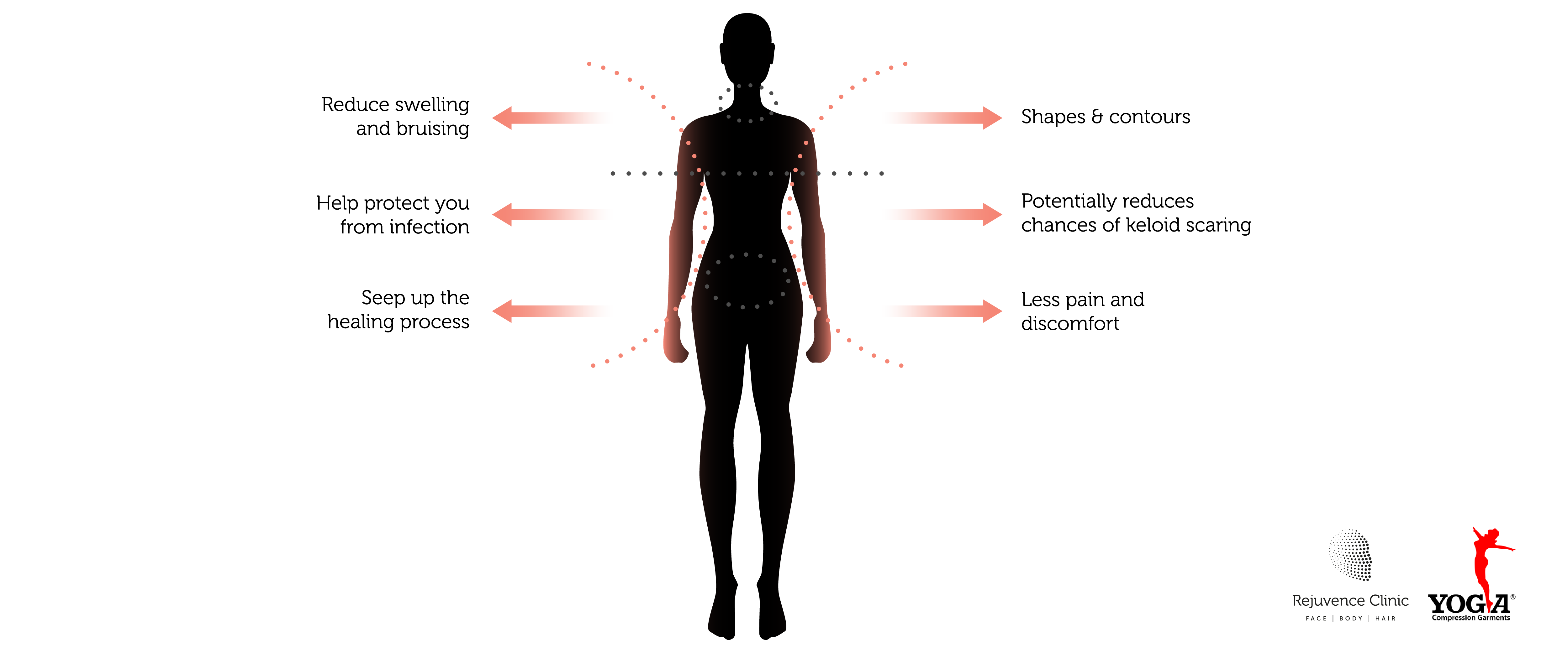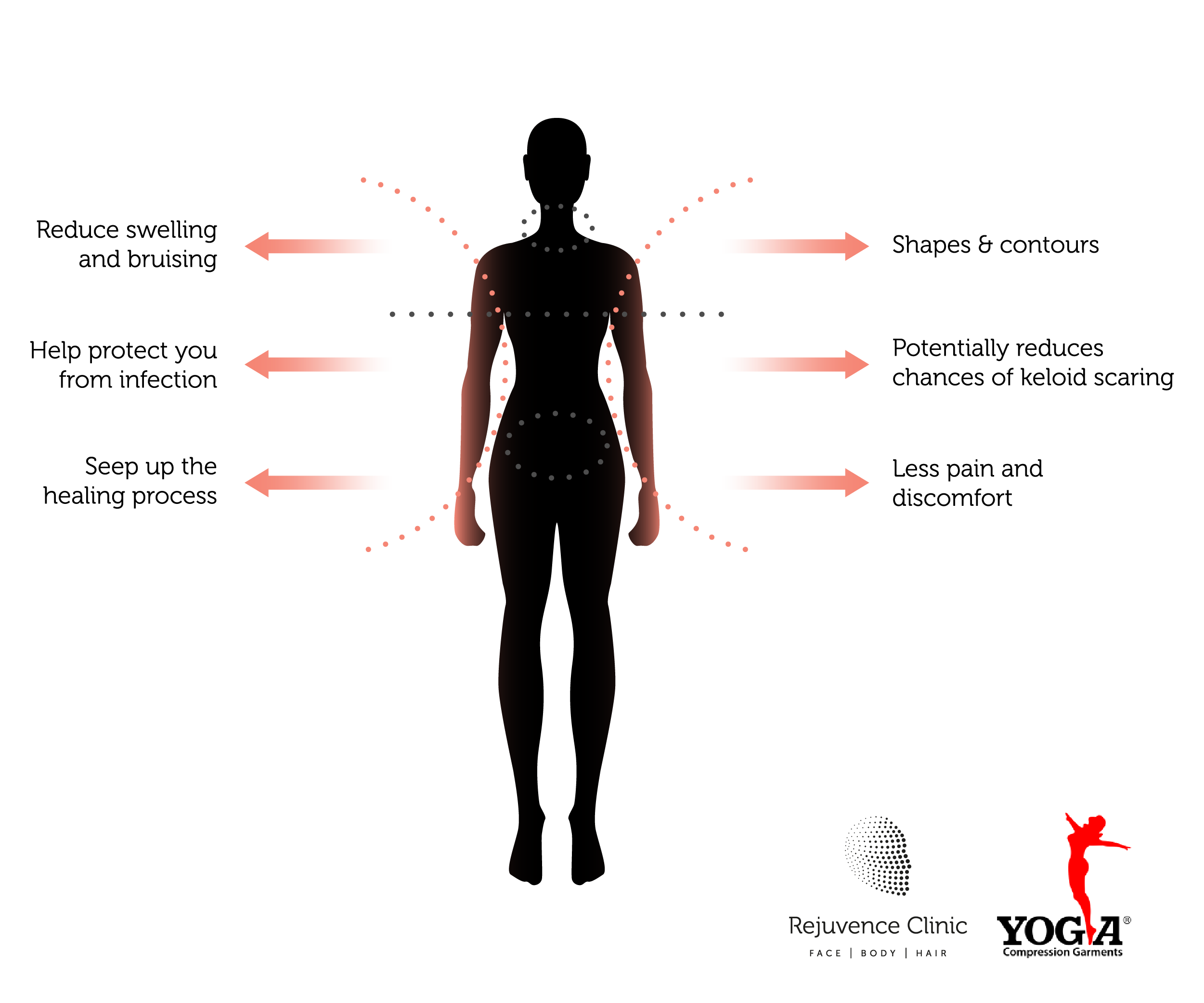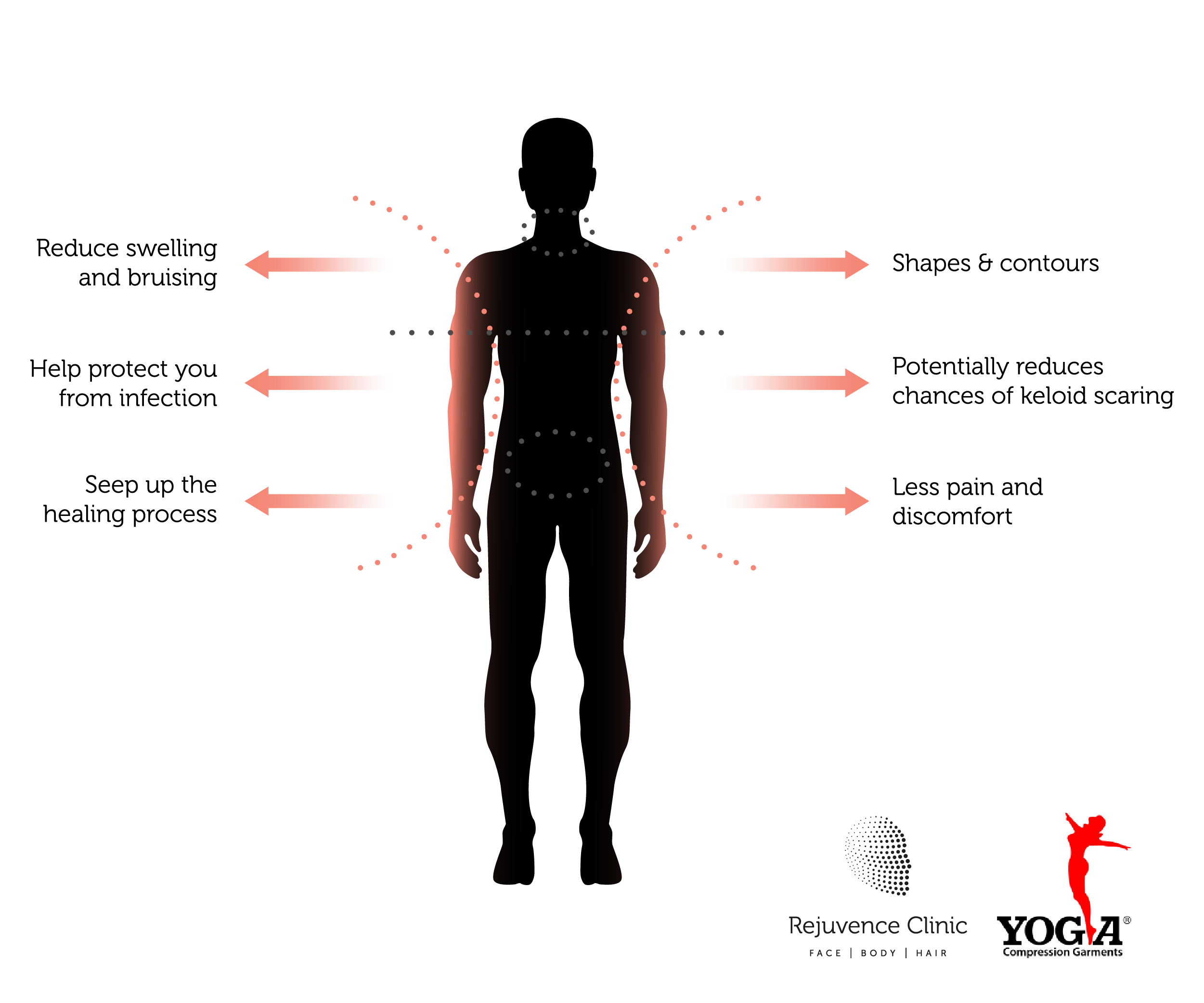 Manual Lymphatic Drainage (MLD) Massage
MLD is a hugely important part of the recovery from J-Plazty Skin Tightening and VASER liposuction. MLD is a specialised form of massage that helps the body rid itself of fluid that is left behind after body contouring procedures. It also helps to smooth out the skin and shape redistribution of fat in the treated areas. 
MLD together with compression after liposuction and Renuvion skin tightening is just as important as the procedure itself. Without MLD and compression the best results cannot be achieved. We recommend at least 5-10 sessions over a period of 2 to 5 weeks starting within 5 days of your procedure.
At Rejuvence we have our own in house MLD therapist and can provide you with a complete package. Our therapist trained in Brazil and has a huge amount of experience with both VASER liposuction and J-Plazty patients.