Sebaceous Cyst Removal London
Cysts (also known as sebaceous cysts) are very common and can occur on different parts of the body and you can get sebaceous cyst removed in London at affordable rates. Cysts are lesions containing fluid or semi liquid material. They are almost always benign (non-cancerous) but can become a nuisance if they become infected or are getting caught on clothing.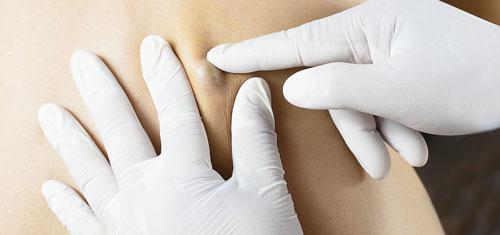 How do (sebaceous) cysts form?
Cysts are usually the result of a blocked sebaceous gland. Sebaceous glands are found in the skin and are responsible for producing sebum. Sebum is an oil based substance produced by sebaceous glands that coat hair and skin. Sometimes the glands can become blocked and result in the formation of cysts. As a result (sebaceous) cysts are often found on hair bearing surfaces such as the face, scalp and back.
Sebaceous cysts are found most commonly on the face, neck, scalp and back. They usually feel like a small swelling below the skin. They are firm and are often closely related to hair follicles. The skin over the top of the cyst may have a small punctum (opening) and if infected can become red and inflamed. When cysts become infected they can become quite painful.
How can I get a sebaceous cysts treated in London?
Sebaceous cysts can either be drained or completely removed. When drained they are much more likely to recur. However, if completely removed they are unlikely to recur. If infected they should be treated with oral antibiotics first and if extremely swollen and painful will need to be incised and drained, much like an abscess.
How can a sebaceous cyst be drained?
This is a very quick procedure. Topical local anaesthetic cream is applied over the cyst. A small needle is used to lance the cyst and it's contents are then expressed with a little bit of pressure. This can be slightly uncomfortable especially if the cyst is infected.
How can a sebaceous cyst be removed?
Complete removal of a cyst is a more definitive treatment option. This can be performed under local anaesthetic and aside from the sting of the anaesthetic is essentially a painless procedure. Once completely numb a small cut is made over the top of the cyst and all its contents are drained. The 'sac' of the cyst is then freed up from the surrounding tissue and completely excised (cut out). The little cut in the skin is then stitched closed. The cosmetic finish is normally excellent. The rate of recurrence is quite small after complete excision.
The removal of cysts and moles is now considered a cosmetic procedure and hence not available on the NHS. At Rejuvence we specialise in the treatment and removal of lumps and bumps in London, anywhere on the body. We have multiple solutions available and are experts at different techniques. Book a consultation to discuss your concerns and we are sure we will be able to help you and provide excellent results at an affordable price.