Mole Removal Treatment London
Moles are extremely common and often harmless that can be easily removed with Rejuvence Clinic mole removal treatments in London. However, a small proportion of moles can be a form of skin cancer and it is very important to recognise this early on. Moles that tend to be of concern are those that have changed recently. This is especially important if they have changed in terms of size, if they have become darker or if they are starting to feel itchy or bleed. Caucasians have a higher risk of moles turning nasty. If you are concerned that you have a mole that has changed recently it is very important to have this looked at.
Moles are a type of lesion that can occur on any part of the body. Moles are usually darker than the surrounding skin and this is because they are the result of large amounts of melanin concentrated in a single area. Melanin is what gives us our skin colour and is produced by cells called melanocytes. The more melanin we have the darker our skin complexion. At any one time an adult can typically have between 10 to 40 moles on their body.
Apart from their darker colour, moles can be flat or raised. This varies between individuals and ethnicities. They are not painful or irritating unless that are on areas of the body where they can catch on clothing – for example on the back in and around bra straps. In addition moles tend to occur more commonly on areas of the body that are exposed to the sun. Hence, it is quite common to get moles on the face, arms, chest and back.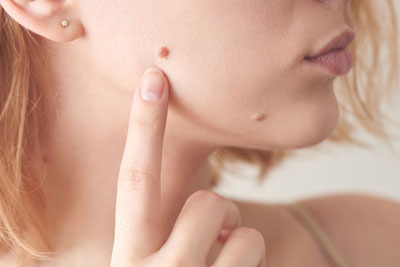 What is the best way to have my mole removed?
The removal of moles is dependent on a number of factors. The size, location and whether it is flat or raised can all impact on what the best technique is to have your mole removed. Often, the best technique for the removal of moles is to have them cut out – also known as excision. Although this sounds gruesome, this usually results in the quickest recovery and repeat treatments are often not necessary. Excision of moles can be carried out using a number of different methods.
Before
After


Before
After


Before
After


Before
After


Before
After


Before
After


©Individual results may vary.
Rejuvence Mole Removal Philosophy in London
At Rejuvence we specialise in the removal of moles in London with excellent cosmetic results. We perform all mole excisions under high power magnification and have a lot of experience, especially when it comes to removing moles from delicate areas of the face as well as those that are quite large and require advanced techniques to get a good cosmetic result. We are CQC registered and you can rest assured that you will be delighted with the outcome.