Spring Thread®
- The perfect anti-aging solution for sagging skin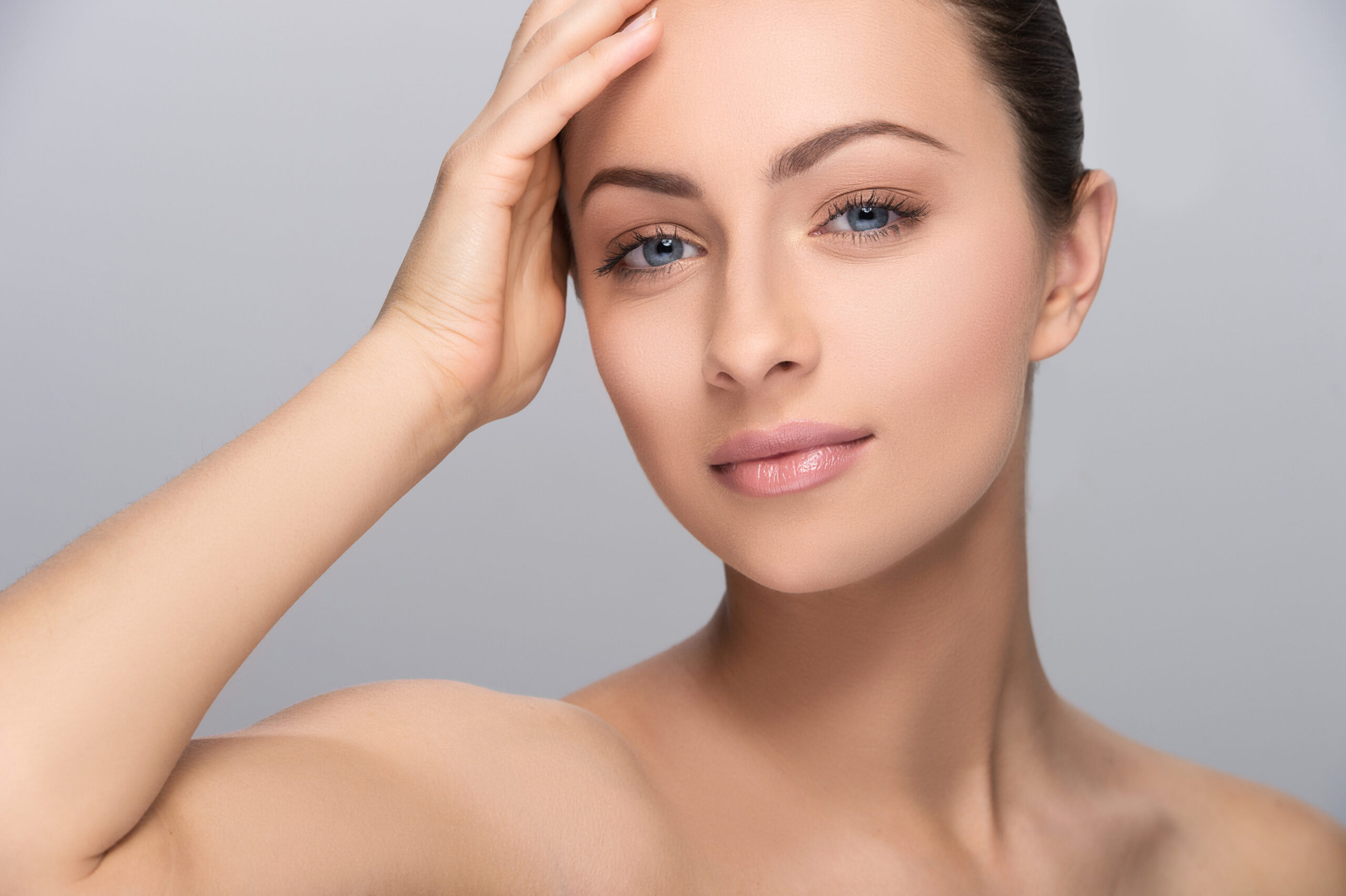 At Rejuvence, we are one of a handful of clinics that are able to offer Spring Thread®. Spring Thread® is a non-surgical thread treatment that is able to provide a truly long lasting solution to facial sagging skin.
Thread lifting has become a popular treatment option for people wishing to correct facial skin sagging without undergoing more invasive surgical lifting treatments. Different threads can be made of different materials but many only provide a temporary lift to sagging skin as they quickly disintegrate and are expelled by the body.
Spring Thread® provides significant lift and helps to reposition sagging skin to restore more youthful facial definition as well as regenerate the skin by stimulating new collagen production. 
Spring Thread® is unique amongst thread treatments as it has very similar elasticity to skin. It is able to stretch and retract. This means that once implanted the Spring Thread® is able to lengthen and shorten with facial expressions just like your skin. This results in a very natural looking effect without compromising lift. 
Effects of Spring Thread® are longer-lasting
The Spring Thread® is highly resistant, and in many ways similar to an implant. They are composed of highly resistant, safe, biocompatible materials. Spring Thread® features flexible and elastic cogs which follow the movements of your normal facial expressions comfortably and without breaking.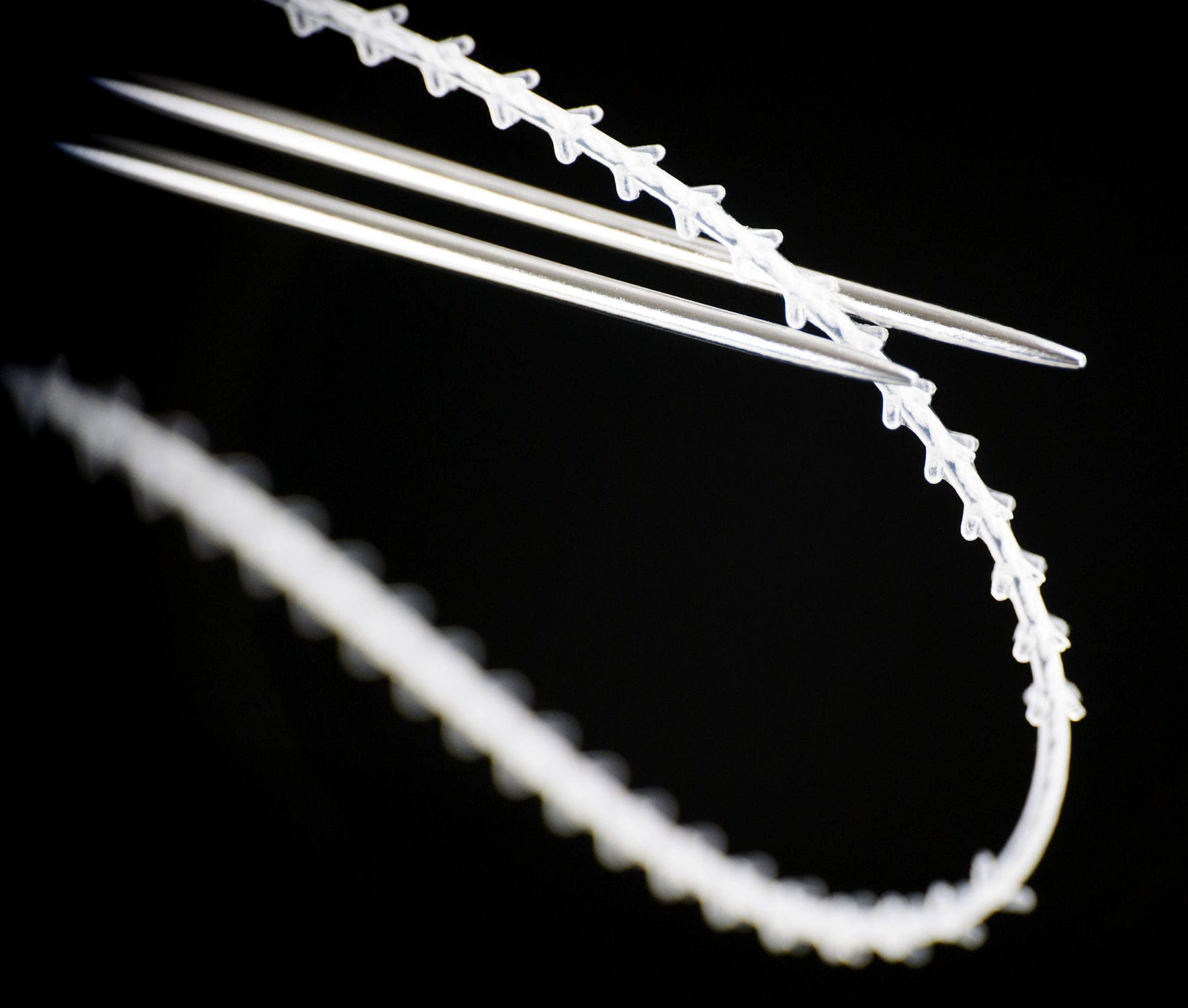 The face has a complex arrangement of skin, fat and muscle that are all subject to the ageing process. The face has a unique muscular layer called the SMAS – the superficial muscular aponeurotic system. The SMAS lies below a layer of fat and skin. The skin is anchored to this muscular layer which allow us to make specific facial expressions such as smiling and frowning. As we age these anchors stretch and loosen and our skin begins to sag. There are a large variety of threads available. The most common threads are PDO threads. PDO threads are absorbable sutures with tiny hooks facing in opposite directions. They are inserted under the skin in specific patterns and the hooks are anchored into the fat. Pulling on the threads results in lifting of sagging skin and fat.
PDO threads are made from polylactic acid or polydioxanone. These are known to trigger the formation of new collagen and elastin. Once inserted the threads are absorbed over a period of 3 months and replaced by bands of collagen that remain in place and maintain results for up to 18 months.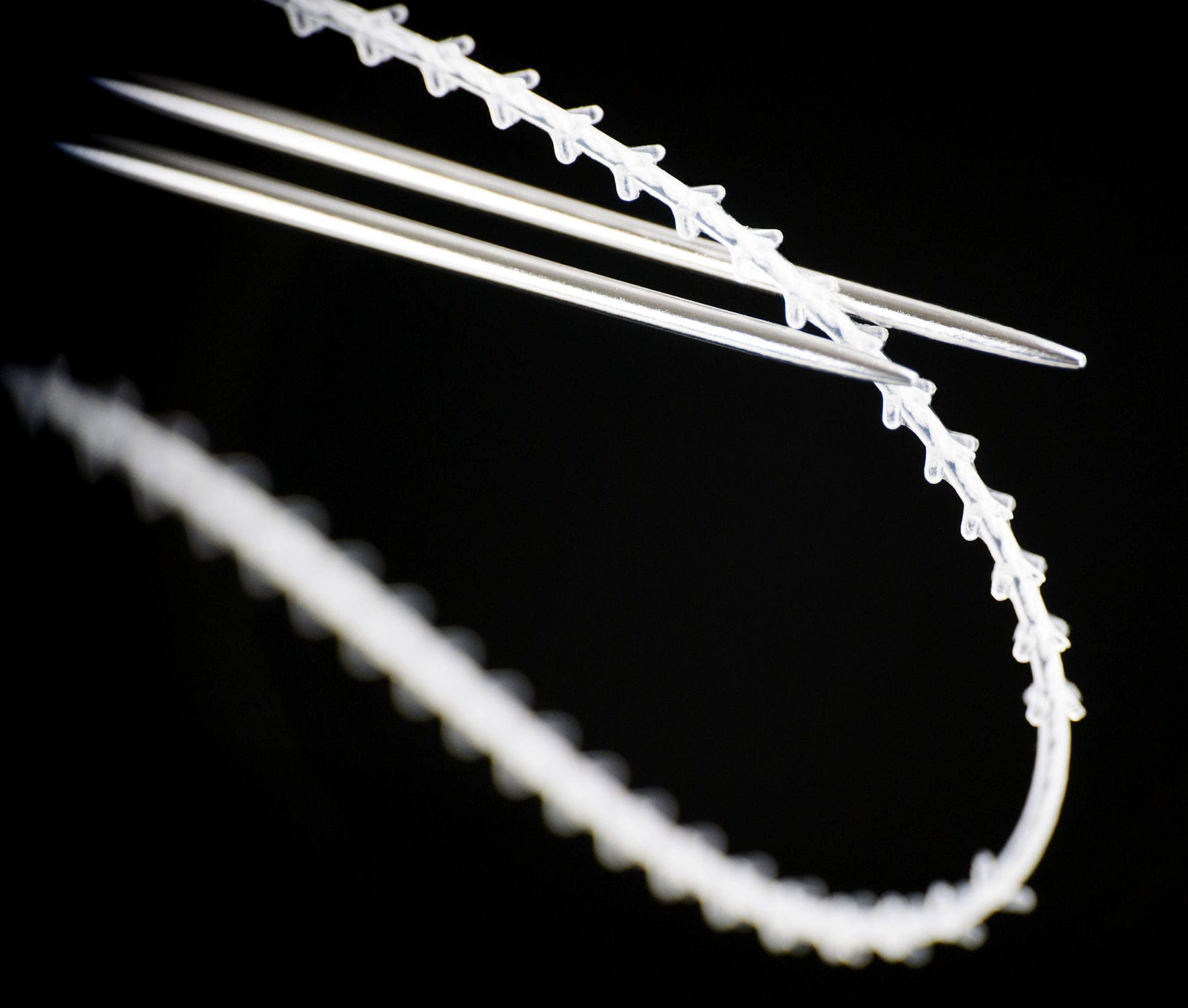 Spring Thread's objective is to replace the connective tissue which has become weak and slack, lifting the facial skin in a diagonal way – upwards and back. Loose sagging skin is lifted and returns the shape of the face to a more youthful appearance. The effects are immediate and have been shown to continue to improve, even after 1 year. 
Spring Thread® stimulates collagen production for several months following insertion. This results in rejuvenation and firming of the overlying skin. The Spring Thread® effectively integrates with the surrounding tissues and replaces sagging ligaments ensuring more long term results. You look like you but a younger version. Sad and tired faces are revived as a more youthful facial definition is achieved.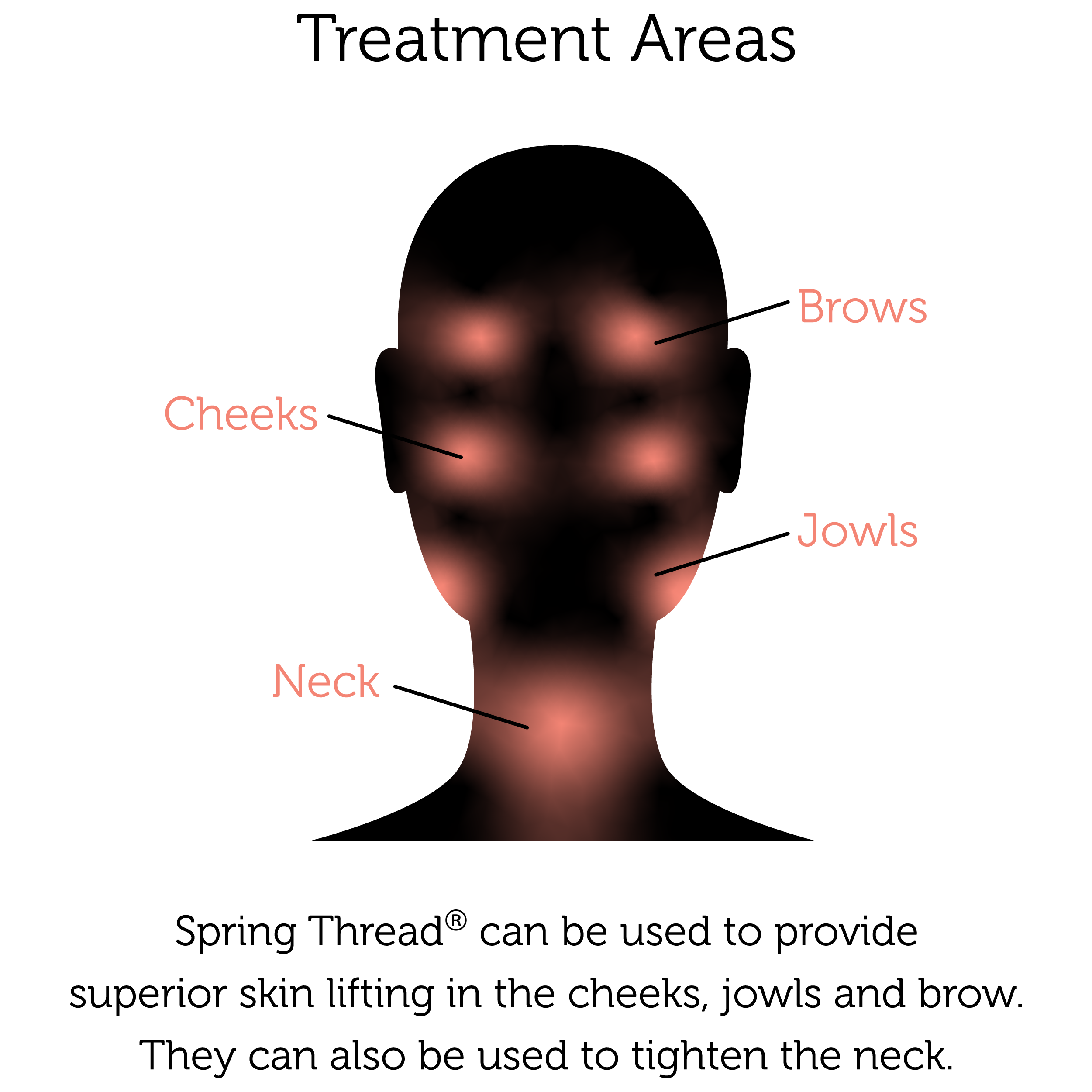 What happens during the treatment?
The Spring Thread® treatment is carried out in a similar way to PDO thread treatments. Local anaesthetic is delivered into the skin so as to numb it, making the procedure pain free. The Spring Thread® is subsequently inserted under the skin using a soft needle. The small, unique round cogs moulded into the thread, move and lift the skin upwards. The skin is finally massaged upwards into a lifted position and the cogs engage underneath the skin to hold it in position. The treatment takes around 1 hour to perform.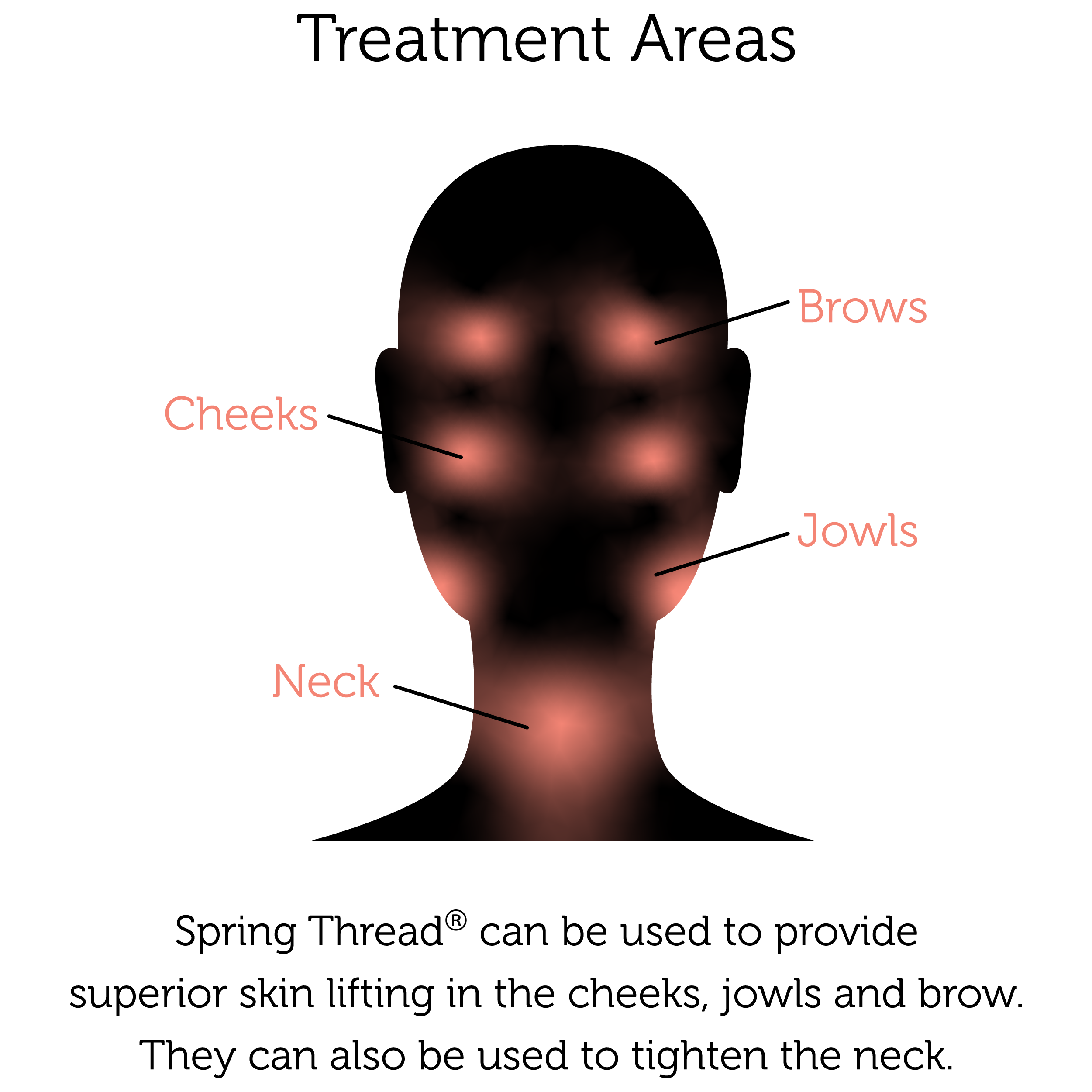 How does the Spring Thread® compare with PDO threads?
At Rejuvence we are able to offer thread lifts with both PDO threads and the Spring Thread®. However, what is the difference between these two types of thread?
| | |
| --- | --- |
| Rigid, giving a dead pan aspect to the face and painful as it tethers and pulls on underlying skin. | Flexible like normal skin, allowing for natural expression and movement without pain. |
| Creates short term biochemical stimulation of the skin | Creates short term biochemical stimulation of the skin |
| Can treat face and neck | Can treat face, neck, breasts, arms, buttocks and legs |
| Suitable for younger people | Suitable for younger people |
| Results lasting typically 3 to 12 months as the thread disintegrates | Results typically lasting more than 3 years |
Can the treatment be repeated in the future?
Thread lifting with the Spring Thread® can be repeated in years to come and there is no need to remove them. Should you wish to go ahead and have a facelift in the future this is also not a problem. 
Spring Thread® at Rejuvence Clinic
At Rejuvence Spring Thread® treatment can be offered as a very real non-surgical alternative to a facelift with results that last for years as opposed to months. There is no doubt that Spring Thread® really is one of the best thread treatments available. 
©Individual results may vary.
Spring Thread® has similar elasticity to skin meaning it allows for normal and natural facial movements and expression and is not uncomfortable.
Spring Thread® is permanent meaning the results are extremely long lasting (typically 3 years and more) – other threads disintegrate, losing strength and effect quickly.
Spring Thread® has rounded cogs pointing in four directions and very close: 24 per CM. This means no-trauma and more effective tissue anchoring.
Call now to book a consultation and find out what Spring Thread® can do for you.