Laser Treatments for Acne London, UK
Acne is a common disorder that arises from hair follicles and their associated sebaceous glands. The severity of acne is related to the amount of sebum produced by sebaceous glands. Sebum is an oily secretion that lubricates hair and skin. Sebum is also a powerful inflammatory agent affecting the shedding of cells from the epidermis (upper layer of the skin). This can result in the blockage of pores and form white heads and black heads. In addition, infection with certain types of bacteria can make acne worse.
What lifestyle factors can worsen acne?
Sebum production is increased by hot showers, hot baths, saunas, steam rooms, excessive sweating. Dietary factors can also worsen acne and include eating non-organic dairy products, diets with high sugar content as well as stimulants including caffeine. Inappropriate use of skin products can also significantly worsen acne especially overuse of moisturisers. Attempts to squeeze or extract white heads or cysts can increase the depth of lesions, increase inflammation and amount of aggravated acne flare ups and ultimately post-inflammatory hyperpigmentation.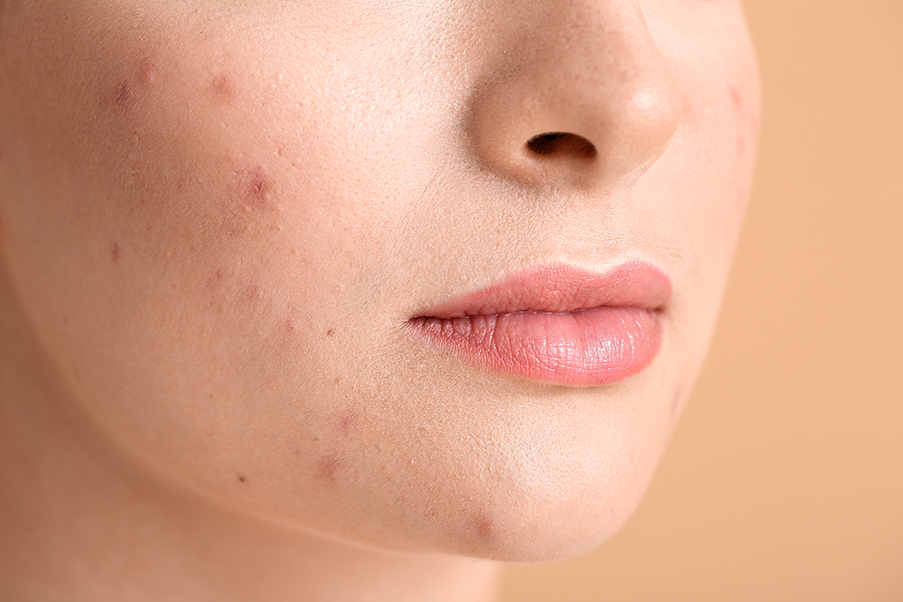 Can hormonal changes affect acne?
Hormonal factors that can worsen acne include systemic hormonal abnormalities such as polycystic ovarian syndrome. Hormonal changes during puberty and changes before and during a woman's period can also have a negative impact on acne. Hormonal changes that occur during pregnancy can also worsen acne although this can be quite variable.
What steps can prevent and control acne?
Important life style changes that can help to prevent acne or moderate acne flare ups include all factors that prevent increased levels of sebum in the skin. This includes never using oily moisturisers and never using heavy foundation.
Laser and light based therapies serve as alternative treatments for acne especially in those who are suffering with antibiotic resistance, intolerance of topical medication and who are unable to take accutane. Nd:YAG Laser can be used in all skin types to help with the treatment of active acne. 
Nd:YAG laser has a wavelength of 1064 nm with a penetration of 4 mm. It is suitable for use on all skin types, especially darker skin types. It is a non-ablative laser and hence does not affect the top layer of the skin. In addition the side-effects associated with this laser are much less than ablative lasers such as CO2 fractional laser.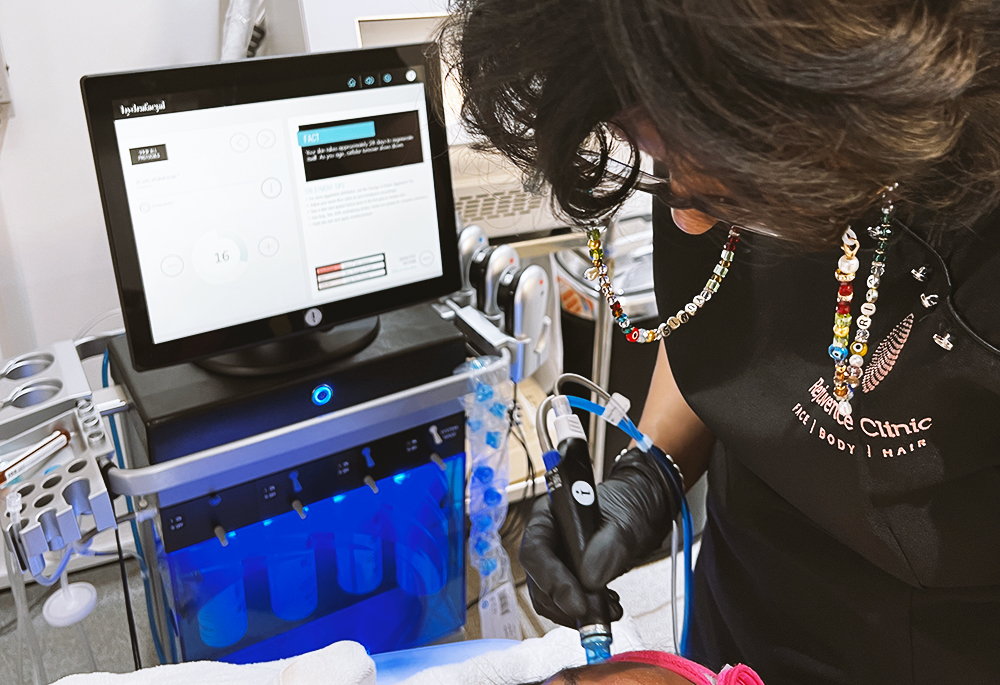 The Hydrafacial is an extremely popular skin treatment that is now available at Rejuvence Clinic. 
With a series of treatments, Hydrafacial can  transform the quality of your skin. It consists of a four step process. Step one is Cleanse & Peel – a mechanical and chemical exfoliation that helps to nourish and renew skin as well as soften sebum and impurities. Step two is Extraction and Hydration. Step three is Fuse & Protect using specialised antioxidant products and optional Skin Boosters from Zein Obagi or Murad. 
How can the HydraFacial help acne?
Hydrafacial can help improve low to moderate grade acne. The chemical and mechanical exfoliation process in step one of the hydrafacial can help reduce sebum production in the skin and reduce oily congestion. The addition of the red and blue light LED treatment at the end of each session significantly helps to reduce inflammation and combat bacteria, specifically P acne.
Book a Free Consultation with our Aesthetician and find out if a Hydrafacial could help you with your skin care needs. 
Every morning good skin preparation is essential. Cleansing using 'oily skin' skin cleanser followed by a scrub consisting of non-irritating essential exfoliating polish will help to clean the skin and also reduce sebum. Use of sebum-reducing pads – Oil Control Pads – are also recommended and form part of the ZO Acne Program. 
Stabilisation and correction of skin health with an alpha-hydroxy acid exfoliator is recommended for barrier repair. Essential Daily Power Defense is a combination of retinol, antioxidants and anti-inflammatory agents that help to calm any acne flare ups. If necessary oral isotretinoin (RoaccutaneTM) supplement (20mg/day) maybe required initially. It is important to note that if oral isotretinoin is taken, significant procedures should not be attempted for at least 4 to 6 months after isotretinoin has been stopped. At Rejuvence we can combine the ZO Acne Skin Care Program with bespoke Laser Treatments to help improve your acne. 
Book a Free Consultation with our Aesthetician for further information and a skin assessment.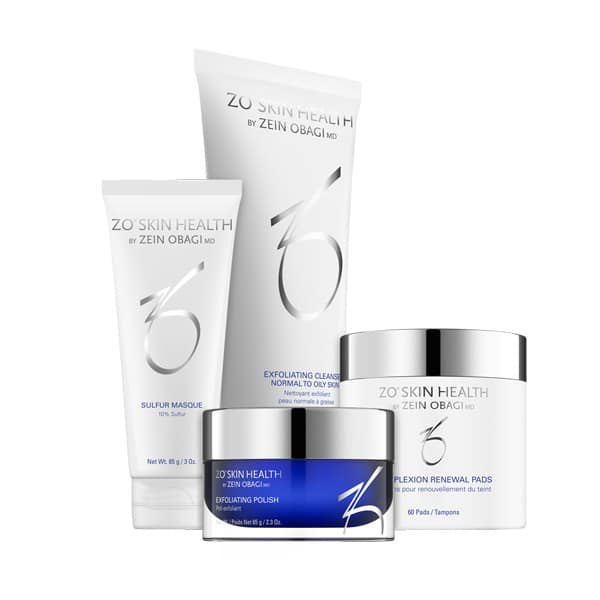 Dermalux LED Phototherapy has been shown to provide some respite and supplement topical and oral treatments during acne flare ups. Multiple sessions of phototherapy every 4 weeks can supplement the ZO Acne System and provides some relief thanks to its anti-inflammatory properties as well stimulate repair and regeneration of the skin. Dermalux is a combination of blue, red and yellow light. Blue light helps with reduction in bacteria. Red light results in a reduction of inflammation. Treatment for acne with dermalux consists of a combination of blue and red light.
Book a Free Consultation with our Aesthetician to find out if Dermalux can help you with your skin care needs.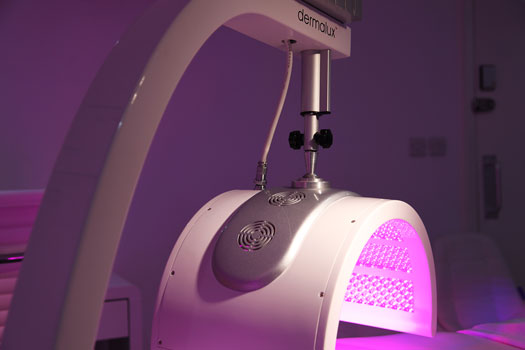 Acne scarring and the aftermath of flare ups
Severe cystic acne and multiple lesions can leave pits with significant scarring and hyperpigmentation. Post-inflammatory hyperpigmentation is particularly a problem in darker skin types, especially skin types IV to VI. Acne scars can be classified as ice pick scars, rolling scars and boxcar scars. Treatment options include microneedling combined with Plasma therapy, and chemical peels such as the ZO 3 Step Peel or Controlled Depth Blue Peel. Pigmentation can initially be addressed by incorporating hydroquinone into any bespoke skin care program in an attempt to bleach, and in combination with Vitamin A, blend the skin producing a more even skin tone and reduction in post-inflammatory hyperpigmentation scars. 
At Rejuvence we understand the psychological distress that can accompany problematic and stubborn acne. It can lead to low confidence and self-esteem that can compromise personal relationships and performance in the workplace. The key to acne control is sebum reduction. We are able to guide sufferers through a variety of skin care options in an attempt to control symptoms. Once under control, we have the experience and expertise to improve any scarring and pigmentation problems that have been left behind.