Scarring is the inevitable consequence of damage to the skin. Unfortunately scarless healing does not exist.
The extent of scarring and quality of wound healing is dependent upon a number of factors. Skin type often affects the quality of healing. Darker skin types have a tendency to form darker scars and suffer from post-inflammatory hyperpigmentation. They also have an increased tendency to develop hypertrophic scarring (raised scars). In Afro-Caribbean and Asian skin types keloid scars (raised scars that extend beyond the site of injury) are a problem.
Wounds that are subject to infection or chronic inflammation can also result in the formation of displeasing scarring especially in conditions such as acne. Certain regions of the body tend to scar less and heal faster than others. The face tends to heal quickly but is the most visible part of the body. Hypertrophic and keloid scars tend to develop over the back, chest and torso more so than the face. Scars need to be stable with no evidence of inflammation or infection before any treatment can be effective in the improvement of their appearance.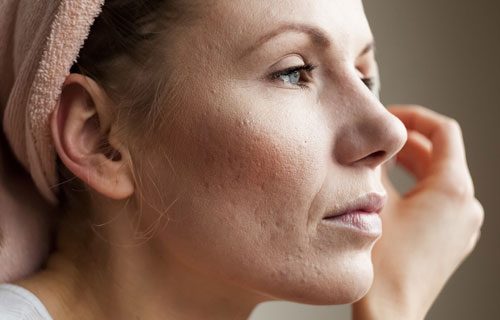 What sort of scars are associated with acne?
Acne is an extremely common condition affecting almost 80% of adults below the age of 25 years. Once resolved many are left with unsightly scarring. Acne scars can be classified into ice pick scars, rolling scars or boxcars. The deeper the sky the more difficult it can be to treat. Multiple treatment options are available and the best results are achieved with a combination of these.
What treatment options are available for acne scars?
Micro needling in combination with platelet rich plasma has been shown to have positive effects on acne scarring. A series of 3 to 4 sessions are needed and the risk of post inflammatory hyperpigmentation in susceptible individuals is very low. Skin texture can be affected by rolling scars and boxcars and often a levelling procedure is required. The three-step peel, and in more severe cases, a controlled depth blue can help with this. However it is important to remember that for chemical peels, particularly deep chemical peels, it is very important that the skin is prepared well through the use of a ZO skincare regime lasting at least 6 to 18 weeks. Dermal fillers can be used to fill up individual scars of relatively substantial depth. Good results can be achieved but further sessions are required in 8 to 12 months due to reabsorption of hyaluronic acid filler.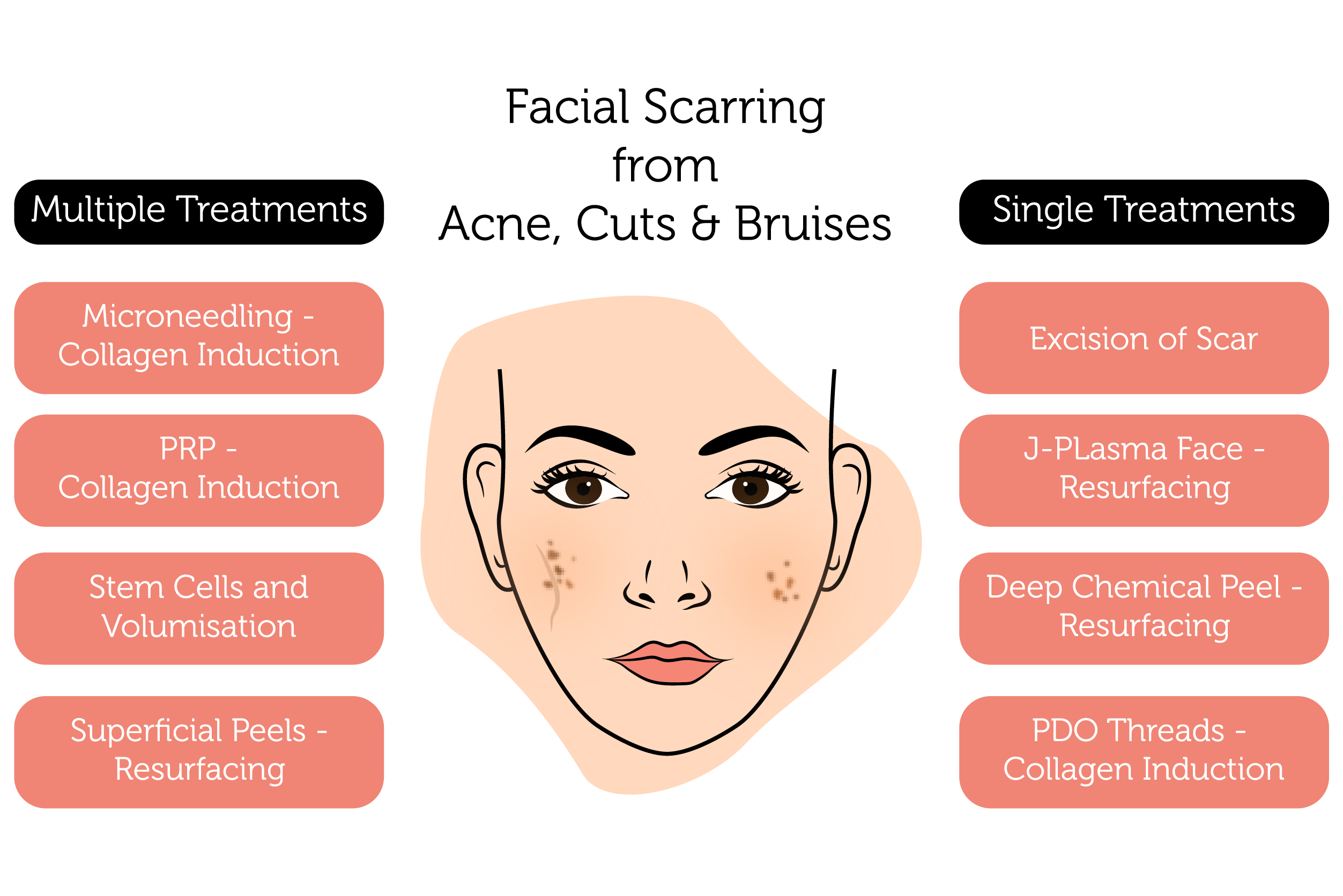 TREATMENT OPTIONS FOR SCARRING
Chemical Peels:
Obagi Blue Peel Radiance 
ZO Three Step Peel 
Platelet Rich Plasma
(includes microneedling)
At Rejuvence we understand the psychological distress that scars, particularly those on the face, can have on self esteem and confidence. We have experience and a thorough understanding of different types of scarring and what treatments work best. Using an evidence based approach we always strive to develop bespoke treatment plans to provide realistic improvements in appearance.