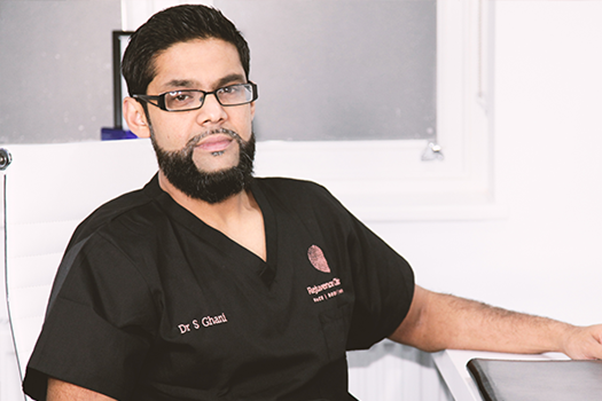 MBBS BSc MRCSEd MScAesth FRCEM
Dr Ghani qualified as doctor in 2004 from Guy's King's and St Thomas' Medical and Dental Schools. He has been registered as a Medical Doctor with General Medical Council since 2005. Dr Ghani has undertaken surgical training at numerous central London hospitals, including Guy's and St Thomas' Hospital and Kings College. He has gained experience in General Surgery, Vascular Surgery, Orthopaedics and Cardiothoracics. Dr Ghani has also gained significant experience in Plastic Surgery at the Royal Free Hospital and Great Ormond Street Hospital.
He completed membership with the Royal College of Surgeons of Edinburgh in 2007 and has published research in a variety of medical journals and presented at national and international scientific meetings.
Dr Ghani has recently obtained a Masters in Aesthetic Medicine (Distinction) and is amongst the first few aesthetic doctors in the country to hold this prestigious degree awarded by the University of London. He completed his thesis on the use of platelet rich plasma in aesthetic and anti-ageing medicine and has a huge interest in the use and expansion of this technology. Dr Ghani has been providing aesthetic treatments for the last 7 years.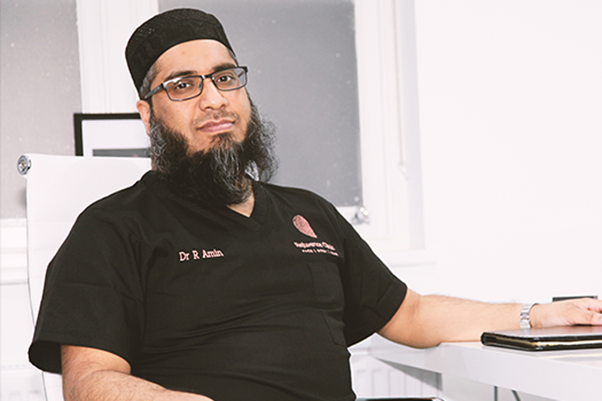 Dr Amin is the co-founder and Medical Director of Rejuvence Clinic.
Dr Amin qualified as a doctor in 1996 from the University Of Leicester Medical School. He has been registered as a medical doctor with the General Medical Council since 1997. He has under taken extensive surgical training at various hospitals in Leicester, London, Hertfordshire & Bedford. Between 1997 and 2002 Dr Amin has worked in General & Vascular Surgery, Urology, Orthopaedics & ENT. He qualified as a GP (General Medical Practitioner) in 2003 and has been providing aesthetic treatments since 2009.
Dr Amin has completed extensive training in the field of aesthetic and anti-ageing medicine. He has completed basic and advanced courses in the administration of botulinum toxin, dermal fillers, chemical peels and platelet rich plasma. He has been trained by world renown experts providing treatments throughout the world such as Dr Daniel Sister. He is a verified and registered ZO skin care treatments and products provider.
Dr Amin was previously the founder and director of Your Face Clinic – a well established and successful aesthetics clinic based in Luton and has developed a healthy following with many regular clients who appreciate his flare and clinical excellence. He is also the medical director of the Circumcision Centre and Thornhill Clinic.