As men age erectile dysfunction is likely to worsen especially after 60 years of age. Over 75 years of age there is a 77.5% chance of suffering from erectile dysfunction. Risks of erectile dysfunction are worsened by smoking, diabetes, heart disease, high blood pressure and a history of strokes. The size and appearance of the penis has long been the subject of significant insecurity and low self-esteem compromising perceived sexual performance and confidence.
The Priapus Shot also known as the P-Shot® was first described and developed by Dr. Charles Runels. Using the power of platelet rich plasma (PRP) Dr Charles Runels developed the P-Shot® as a growth factor and stem cell treatment for penile rejuvenation, erectile dysfunction, strength of erections and sensation. 
At Rejuvence Clinic we are licensed providers of the P-Shot®. We use the premium Angel Arthrex system for PRP. Call us now to find out more.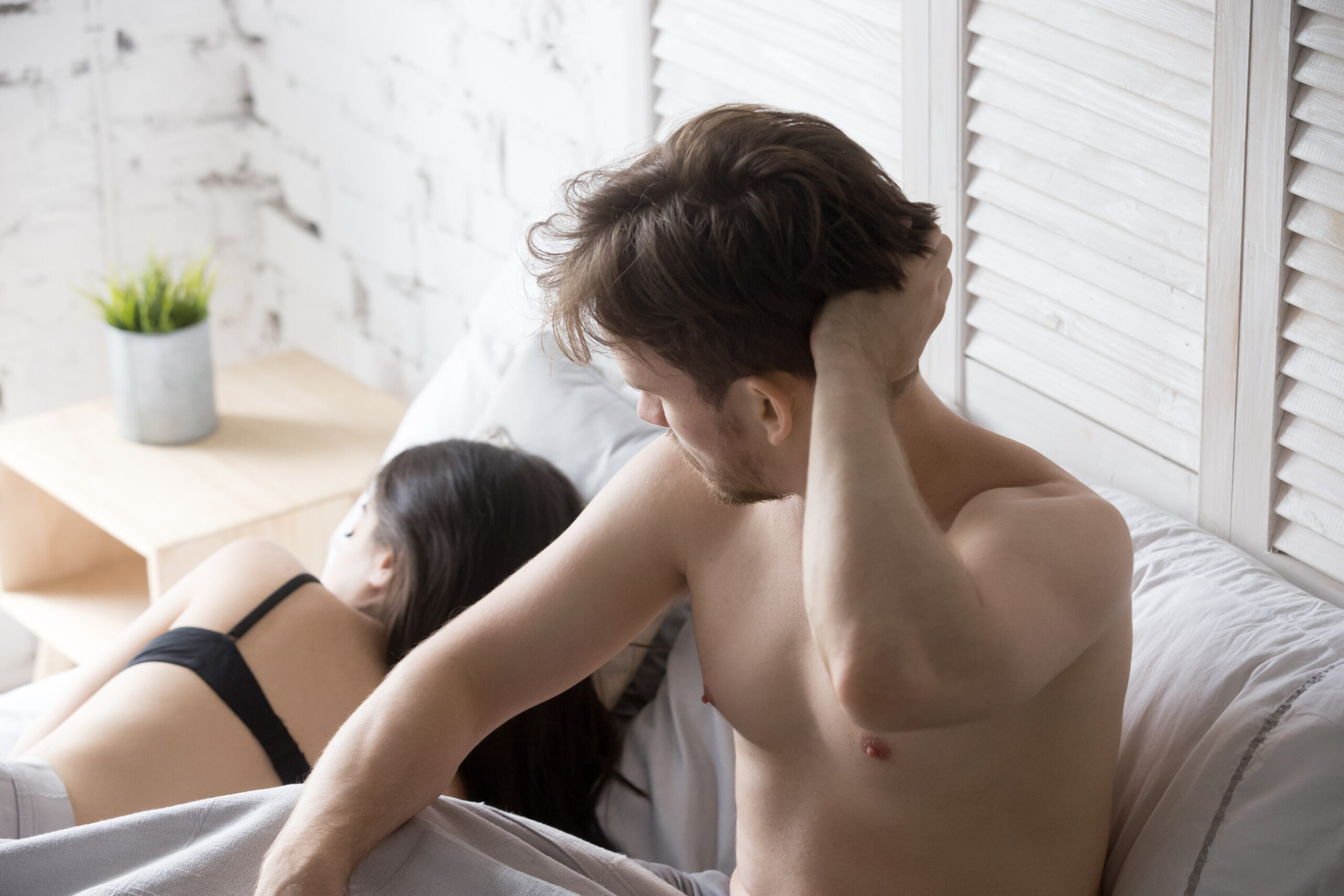 What treatments are currently available for erectile dysfunction and penile enhancement?
At present psychological support has been seen as an integral part of any treatment initiation for erectile dysfunction. Phosphodiesterase inhibitors (Sildenafil or Viagra™) tablets are the mainstay of treatment. Testosterone replacement is also an option. For penile size enhancement vacuum assist devices, drug injection therapy as well as surgical implantation of prostheses are available options but are of limited success.
PRP for erectile dysfunction
Platelet rich plasma has been shown to have positive effects in the regeneration of nerve activity in erectile dysfunction in rats. This concept has been extended to erectile dysfunction in men. The popularised 'P-Shot®' has really taken off ever since it was reported on in Men's Health and other similar magazines. Men receiving the treatment have reported positive gains in erection size and strength as well improved sensation and sexual performance. PRP has been shown to work well alongside existing over the counter medication.
PRP for penile enhancement
Platelet rich plasma (PRP) acts as a stimulator of numerous growth factors. These growth factors all help to increase fibroblast activity and hence production of collagen and elastin – the main constituents of the dermis (deeper layer) of skin and soft tissue. Injection of PRP into corpus cavernosum (spongey parts of the penis responsible for an erection) has been shown to provide an increase in girth that can provide immediate benefits. Over a period of a few weeks this size advantage reduces somewhat but there is an improvement in sensation, skin appearance and general sexual function.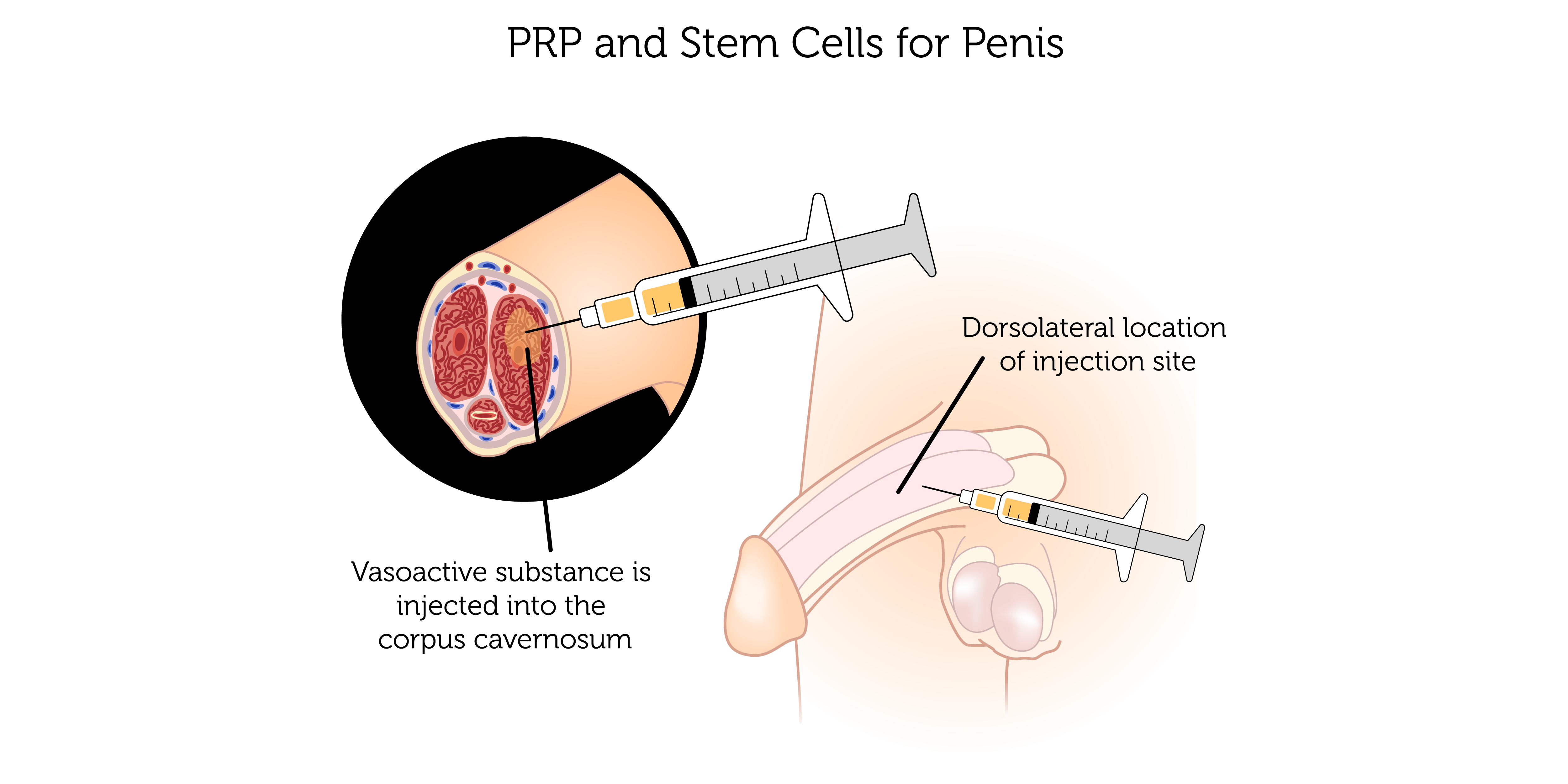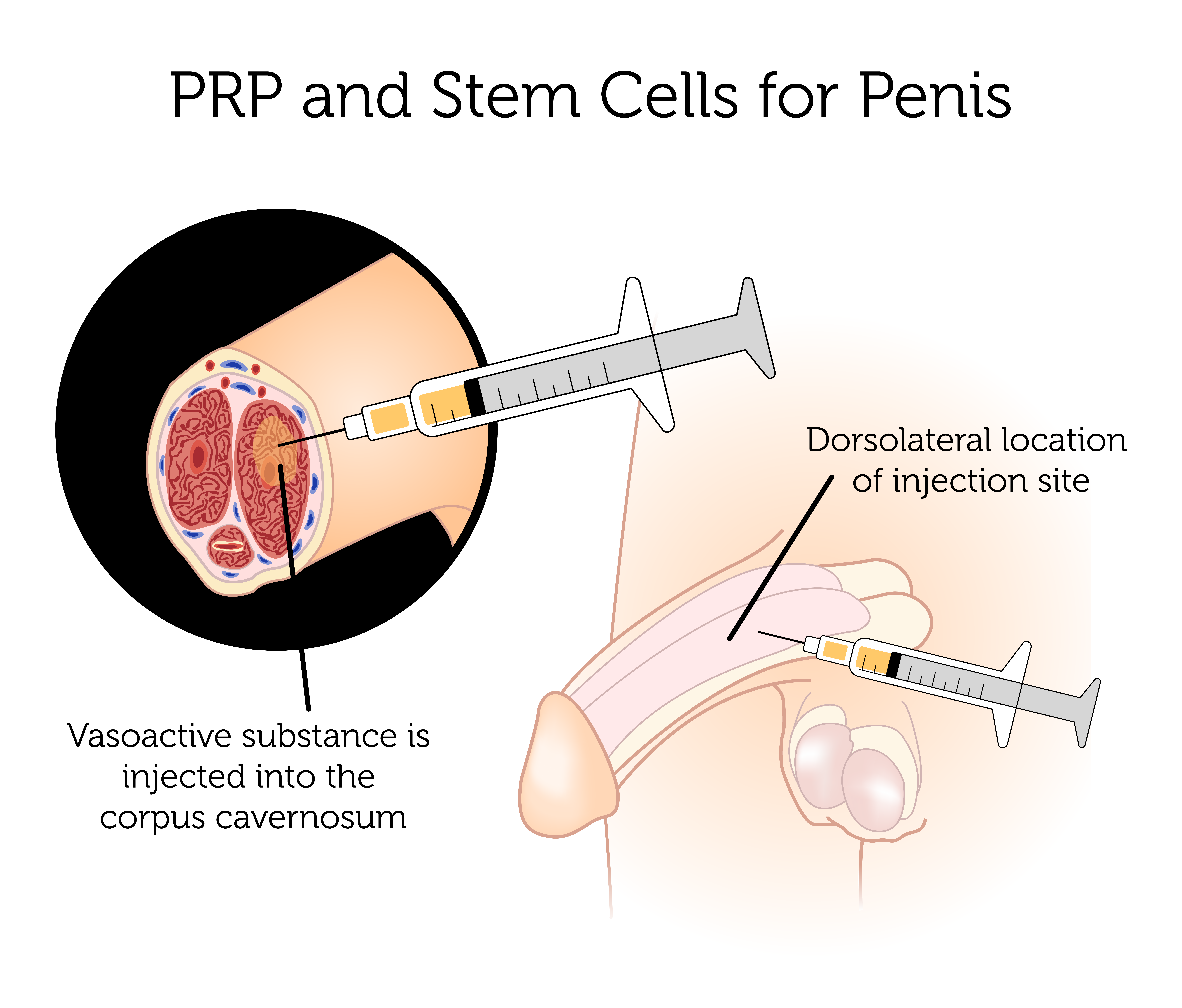 How is the treatment carried out?
Platelet rich plasma is obtained from the patient's own blood using the Angel Arthrex system. This is subsequently re-injected into the corpus cavernosum located either side of the penis. The procedure is carried out under local anaesthetic and is normally pain free.
Expected treatment benefits
The expected treatment benefits from platelet rich plasma for penile enhancement and erectile dysfunction are increased quality of erection, heightened sensation, increased firmness of erection, improved skin appearance and increased blood flow and circulation. There is no associated downtime with the procedure and men are able to have intercourse the same day with perceived improvements. The majority of expected improvements and benefits are derived over a period of weeks.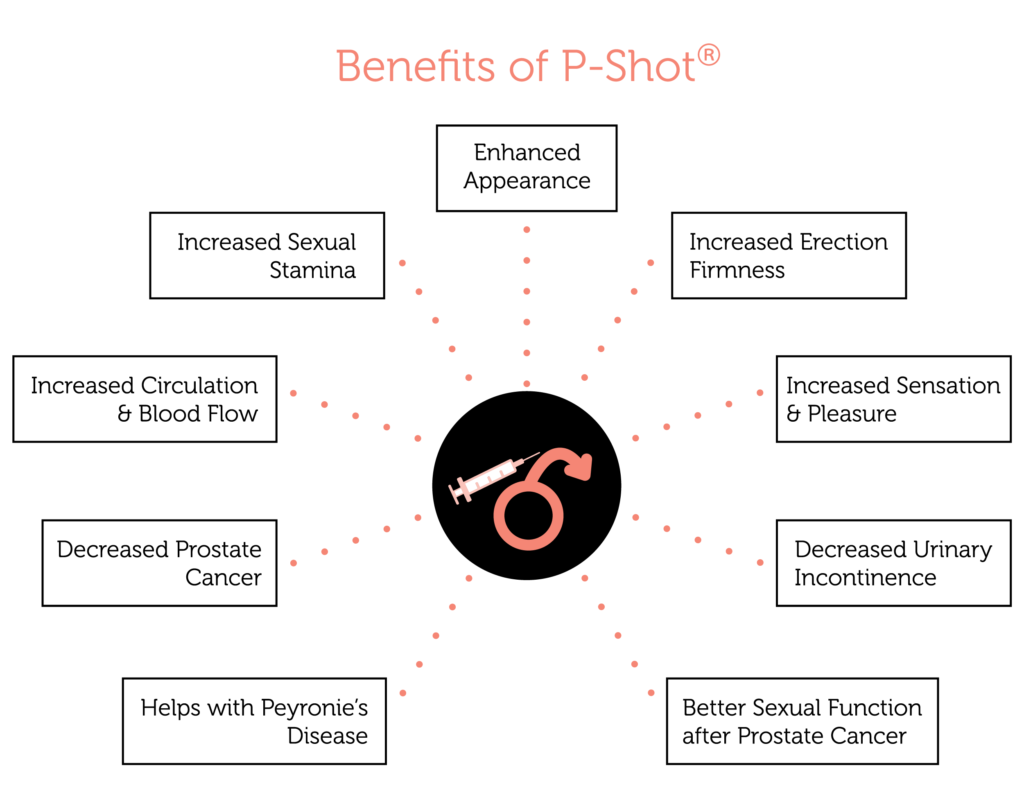 Dr Ruhul Amin is the co-founder of Rejuvence Clinic and he is our licensed provider of the P-Shot®. Dr Amin is a General Practitioner with extensive experience in multiple surgical disciplines with a special interest in urology. He is the Medical Director for Circumcision Pro and has performed more than 8000 circumcisions to date. He is also extremely experienced in aesthetic medicine and specifically PRP. Dr Amin is adept at making his clients feel at ease and you can rest assured you will receive a discrete and understanding service from him.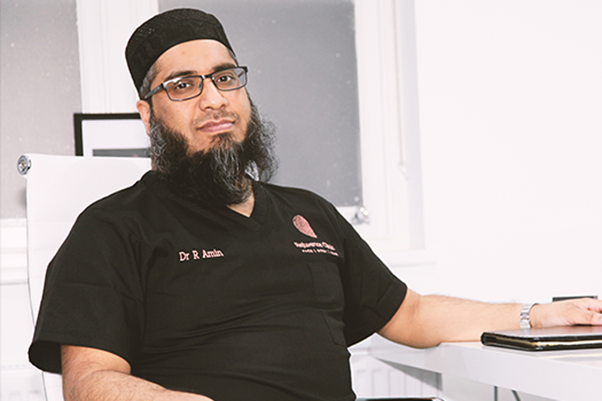 What happens during my treatment in clinic?
At Rejuvence we are licenced to provide our clients with the P-ShotⓇ. Our resident P-ShotⓇ specialist is Dr Ruhul Amin. The P-ShotⓇ is a non-invasive treatment that takes around 1 hour to perform. 
Topical anaesthetic (numbing) cream is applied to the penis.

For further comfort an anaesthetic penile block can also be administered to make the procedure completely painless. 

Blood is taken and highly concentrated platelet rich plasma (PRP) is prepared using the Angel Arthrex system. 

Once ready the PRP is then injected into the shaft, foreskin and the head of the penis.

A penis pump is recommended for immediate use afterwards – you will be advised on how regular to use and for how long.
There is very minimal discomfort associated with this treatment. Thanks to the numbing cream applied beforehand there is practically no pain upon injection of the PRP into the penis.
Are there any complications?
The P-Shot® is associated with minimal bruising and practically no complications.
Is there any downtime and when can I have sex?
There is no downtime associated with this treatment. You can quickly get back to all your regular activities such as work, exercise and even having sex on the same day.
Will the size of my penis increase with the P-Shot®?
The main purpose of the P-Shot® is to improve blood circulation and nerve regeneration in the penis for stronger erections and better sensation. However, gains in size have been reported by a significant proportion of men, especially following a series of treatments. It should be noted that the P-ShotⓇ should not be used only for achieving size gains. Some men notice as much as 1.3 inches of length and 1.1 inches of girth, but some may not notice any size changes. Around 40% of men can expect a 20% increase in size.
When can I expect to see results of the P-Shot®?
The majority of men notice improvements in their sex life within 3 to 4 weeks. However, some report positive gains quicker than this. Sensation in the penis is improved with more stronger erections. It can also help with the appearance and size of the penis, urinary incontinence and general sexual arousal.
The majority of men get improvements from a single treatment. However, studies have shown that the effects of the P-Shot® are improved with repeated treatments especially in the first instance. We normally recommend having a series of 3 treatments spaced 4-6 weeks apart. This is especially the case with regards to gains in sensation and size.
Psychosexual counselling at Rejuvence
At Rejuvence we are striving to provide all our clients with the best possible care at an affordable price. Unlike many other clinics we advocate strongly combing psychosexual counselling with all our P-Shot® treatments. Prior to your treatment, our resident Psychosexual expert, Dr Venkat Sivaraj, carries out a psychosexual evaluation to help clients try to understand their needs and any sexual dysfunction. This is to help evaluate whether the P-Shot® is appropriate for a client. The service is included for free with the P-Shot® and Dr Sivaraj is always available to help clients following their treatment. At Rejuvence we believe the psyche is just as important for a fulfilling sex life as the physical ability to achieve a strong and powerful erection.